The multi-tool firefighter: Asked to do more with less
When does the expanded scope of work reach a tipping point, requiring a new staffing model?
---
Download the What Firefighters Want digital edition, detailing survey results and digging into issues of staffing and stress. And check out the on-demand webinar, which further explores issues of recruitment and retention, scope of work, and work and personal stress solutions.
Over the last 50 years, the American fire service has been challenged to adapt to the increased needs of our communities without changing our service delivery model. The impact of the increased services and technical skills needed to address the increased variety of service that we provide to our communities has reached a critical point.
FireRescue1's recent What Firefighters Want survey highlights the changing nature of the profession, with 87% of respondents indicating that the scope of the job has expanded since they joined the service. Only 8% indicated their job had not expanded, and another 4% had not been in the fire service long enough to answer (fewer than 5 years on the job).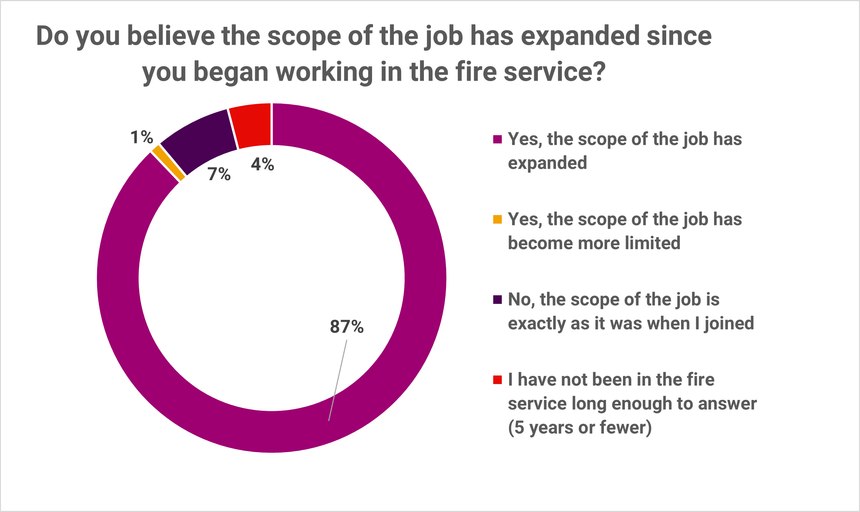 Additional responses underscore how the continued expectation of meeting our communities' continued growth and variety of incidents is negatively impacting our current firefighters' wellbeing and hampering efforts to attract new firefighters. But before we address those stats, let's consider how times have changed.
Then and now: Scope of work
Let's go back 50 years. What level of service did your local fire department provide to the community? Most likely, your local fire department was predominantly asked to respond to fires and maybe a few motor vehicle crashes or cat-in-tree calls.
Emergency medical calls were handled by local hospitals or other organizations, hazmat wasn't a thought for most organizations, and we didn't even have car seats so there were definitely no car seat inspections to factor into the day.
Fast forward to today. What incidents do your members run?
Fires
Vehicle extrication
Technical rescue (water/ice, rope, collapse, trench, etc.)
Hazmat
Public education
Medical calls (ALS, BLS or both)
Wildland firefighting
Peer support teams
MCI
… and many other situations that the fire service is asked to mitigate.
Considering this list, it's only natural to ask, how do we stay proficient at the skills necessary to meet our community's needs? Are we burning out our members, both paid and volunteer, because of the increase in skills and training necessary to meet our communities' needs? Have we reached the point where the skills of a firefighter have become both too in-depth and too broad that we are now seeing less and less interest in the fire service?
The survey responses affirm these questions, with 62% agreeing that the expanded scope of work feels unsustainable from a training standpoint, 67% indicating that the increased work makes it difficult to complete required training, and 60% stating they are required to do too much. There is an old saying that you can be the jack of all trades but the master of none. This is potentially occurring in your organization today, asking our firefighters to be the multi-tool but not having the capacity to master the trade.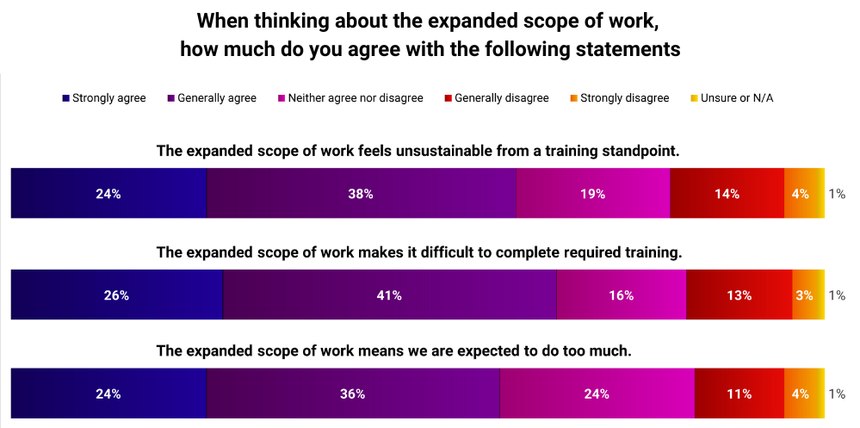 Perhaps what's most concerning, though, is this stat: 48% of survey respondents report that the expanded scope of work has negatively impacted their health and wellbeing.

As the scope of work continues to expand, our members' workload stretches their capacity and impacts their safety and wellbeing due to a lack of mission-critical-focused training that would allow members to be confident in their skills. When the alarm sounds, there is no time for self-doubt in your ability to perform.
The multi-tool firefighter
A standard tool for most firefighters to have on their belt is a multi-tool that consists of a variety of tools to help tighten a screw or nut, cut a rope or file a sharp end. Multi-tools are great tools for that "quick fix." However, when it comes to a high-performance auto mechanic, they need a precise tool that fits the specific car; a multi-tool won't cut it for precision work.
The fire service is a high-performance team of individuals with finely tuned mental and physical skills trained to respond to fires. Now compare a multi-tool to an old-school Swiss army knife, the ones with everything from a corkscrew to a magnifying glass. The multi-tool is more efficient and effective than the Swiss army knife because the knife became too large and too diverse to be usable in the real world.
As a fire service, we need to be honest with ourselves and set aside our ego to recognize that our collective "multi-tool" may have gotten too big – and it may actually have a negative impact on our members and community. It is also important, organizationally speaking, to identify and grow specialists in those key areas.
The ability to identify when an organization has reached Swiss-army status becomes increasingly important for firefighter satisfaction and continued retention of our members. Regardless of the size of your organization, there is a point where we ask our members to do too much. Recognizing a system change is needed by creating specialists to relieve our members may be necessary – this will help us provide better service to our community and improve the abilities of our firefighters.
Expanded opportunities
While the expanded scope of work has clearly strained resources at many organizations, it's also important to note that positive outcomes have resulted from this growth as well.
Approximately 54% of survey respondents indicated that the expanded scope of work has motivated them to pursue new areas of focus; 33% report the increased work has opened new doors for promotion; and 70% say the expanded scope of work gives them the opportunity to wear many hats to support the community. The expanded scope has its positives for our members in that they have flexibility in choosing a service avenue they enjoy. For example, firefighters today can specialize in a variety of new areas that provide a refreshing break from the traditional calls for service.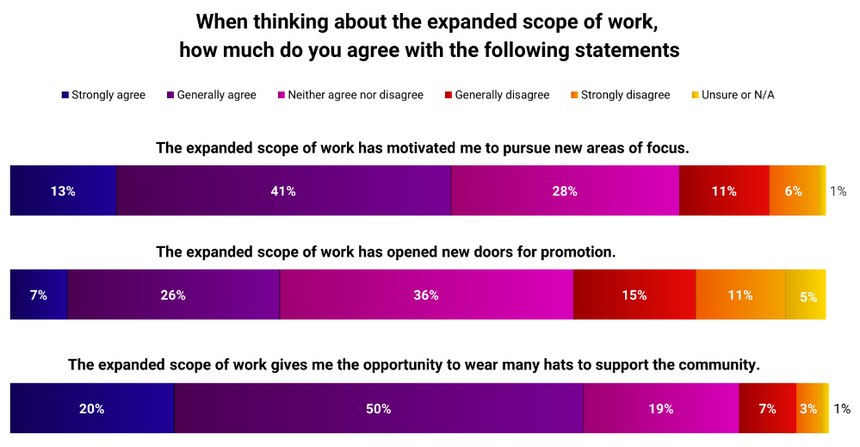 The leader's adjustment
Our firefighters are asked to be more diverse in their skills and respond to the increasingly different needs of our communities, and I know our firefighters are up to the challenge of the future – and clearly many feel positive about the expanded roles. However, as leaders, we must strive to make adjustments to better meet both our firefighters' needs and the needs of our communities by recognizing where we may need to change our response systems through the creation of new specialist positions that reduce the number of ways our firefighters serve as a personal and professional multi-tool.
---
Editor's Note: We asked participants to share free text answers to the question, "What would you like to do less of?" Nearly 1,400 firefighters responded. Here are the top trends: