Alaska fire department responds to 25 fires in 1 day
Anchorage remains under a total burn ban due to a sustained streak of record-breaking heat and dry weather
---
By Michelle Theriault Boots
Alaska Dispatch News, Anchorage
ANCHORAGE, Alaska — Anchorage fire officials on Sunday implored the public to heed warnings of extreme fire danger after responding to 25 reports of fires in one day.
None of the fires spread or caused any damage to structures or people, the Anchorage Fire Department said.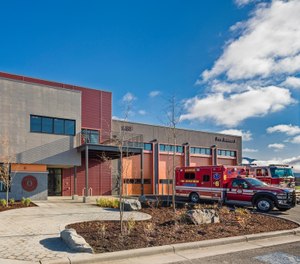 The city remains under a total burn ban due to a sustained streak of record-breaking heat and dry weather.
"Open Fires are PROHIBITED Due to VERY HIGH-EXTREME Fire Danger!" the AFD said in a statement Sunday.
The city is so parched and hot that even a cigarette tossed into a pile of fluffy cottonwood fiber could ignite a serious fire, said Alex Boyd, assistant chief of the Anchorage Fire Department.
"Our goal is just to have people listen to the burn ban," he said.
Some people haven't been following the ban.
In the past 24 hours firefighters have responded to fires caused by backyard rubbish fires and small campfires, including at illegal urban campsites. One, near the Glenn Highway, involved a generator at a campsite that caused a small brush fire that was extinguished.
"Five to six in the last couple hours are at camps that have lost control of their heating sources," Boyd said.
People need to continue to be vigilant, Boyd said: It's OK to use a barbecue grill or pellet grill, but no other type of outdoor activity that could cause a fire is permitted.
That includes: bonfires, campfires, open-flame cooking fires, outdoor fireplaces, grass or yard debris burning or "any other heat source" which has the potential to start a fire.
"Very small sparks and ignition parks can turn into large fires very quickly," Boyd said.
On Sunday, the recorded temperature at the Ted Stevens Anchorage International Airport reached 84 degrees by late afternoon, besting the previous daily record of 79 degrees, set in 2009. Meteorologists warned that it could rise further in the evening hours.
Anchorage has been breaking daily weather records with high temperatures every day since July 3, according to National Weather Service data.
The city set an all-time record on July 4, reaching 90 degrees for the first time.
The National Weather Service's forecast for the work week is for more warm temperatures, cooling slightly to the 70s with a chance of showers by Thursday.
That's far from the heavy rain needed to cut the fire danger, Boyd said.
"What we need is a few days of good solid wetting rain to get back to normal."
———
©2019 the Alaska Dispatch News (Anchorage, Alaska)
McClatchy-Tribune News Service