Extreme bushfires prompt state of emergency in Australia
Three people have died and 100, including 20 firefighters, have been injured after severe bushfires broke out last week in Australia's most populous state
---
AUSTRALIA — The eastern Australian state of New South Wales (NSW), which has seen dozens of devastating bushfires since last week, has declared a week-long state of emergency starting from Monday.
NSW Premier Gladys Berejiklian said on Monday she declared the emergency due to "the catastrophic weather conditions predicted for this week, particularly Tuesday, with hot weather and strong winds."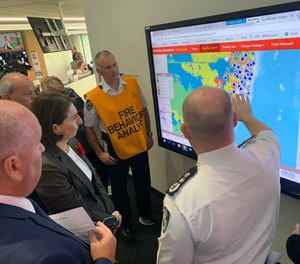 "The catastrophic weather conditions mean that things can change very quickly," she said in Sydney, warning people: "For heaven's sake, stay away from bushland."
A state of emergency gives the Rural Fire Service and its commander extensive power to mobilize all state resources, coordinate evacuations, shut down gas, electricity, oil and water services, as well as stop, start, or make use of any businesses, facilities, or premises.
New South Wales is the most populous state in Australia.
At least three people have died and some 100 people including 20 firefighters have been injured in bushfires in New South Wales that started last week. More than 150 homes have been damaged. Figures are expected to rise.
Almost one million hectares of land have burnt already, close to combined total for the last three fire seasons, fire authorities say.
Currently, there are 60 fires - 40 of which are out of control but not at emergency levels - still burning across the state, according to the Rural Fire Service.
Residents are facing what "could be the most dangerous bushfire week this nation has ever seen," David Elliott, NSW emergency services minister, said Monday.
The last time a state of emergency was declared in the state was 2013 when there were extensive bushfires in the Blue Mountains west of Sydney.
At least 40 schools have been closed, with more likely to close on Tuesday.
Also, a risk of catastrophic fire danger has been declared in three regions of New South Wales, including the greater Sydney area, on Tuesday with severe and extreme danger across the vast areas of the state.
"It's where people die," said New South Wales Rural Fire Service Commissioner Shane Fitzsimmons.
"Catastrophic is off the conventional scale. We are talking about indices that go well beyond the old scale of 100."
People have been told to evacuate some areas for their survival.
The danger alert for Sydney region includes all of the outskirts as well as some of the inner suburbs of the city but not the central business district.
Sydney, the most populated city in Australia, is the capital of New South Wales.
This is the first declaration of a potential fire "catastrophe" for Sydney since a new rating system came into effect 10 years ago. There have been a couple of such warnings for other parts of the state in the past decade.
Also, Hunter Valley, a wine region, some 250 kilometres north of Sydney, and Illawarra/Shoalhaven region, which is 200 kilometres south of Sydney, have been declared catastrophic fire danger regions.
Meanwhile, in the neighbouring state of Queensland, four homes have been destroyed in the bushfires that started last week.
There were 47 fires burning on Monday across Queensland, which has also declared a state of emergency in some parts of the state.
A very high fire danger has also been forecast for most of Queensland on Tuesday.
In the past, Australia's worst bushfire tragedy was the 2009 Black Saturday fires in Victoria, which killed 173 people and destroyed thousands of homes. Authorities have said that fire would have been categorized as catastrophic in today's system of measurement.
———
©2019 Deutsche Presse-Agentur GmbH (Hamburg, Germany)
McClatchy-Tribune News Service