Firefighter recovering after being dragged while escaping Hawaii wildfire
U.S. Fire Administrator Lori Moore-Merrell said firefighters had to abandon their fire engine and use another vehicle that could not carry everyone
---
By Christie Wilson
The Honolulu Star-Advertiser
LAHAINA, Hawaii — A Maui Fire Department captain seriously injured while battling the Aug. 8 wildfire in Lahaina is continuing to recover at The Queen's Medical Center in Honolulu, according to Hawaii Fire Fighters Association President Bobby Lee.
Beyond a brief mention in a Maui County news release on the Upcountry and Lahaina fires issued at 9:45 p.m. Aug. 8 that said a firefighter responding to the Lahaina wildfire "experienced smoke inhalation" and was in stable condition at Maui Memorial Medical Center, county and state officials have not provided details about the incident or an update on the firefighter's condition, and have not responded to Honolulu Star-Advertiser requests for additional information.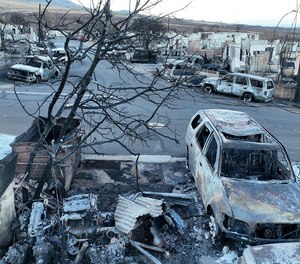 Lee was asked today about the injured firefighter and provided an update to the newspaper.
At least three Lahaina residents told the Star-Advertiser that on their way out of town to escape the inferno they witnessed firefighters performing CPR on another firefighter on the side of the road. Other reports on social media describe seeing a firefighter being dragged by a truck and suffering severe injuries to his leg.
In an interview with KGW News in Portland, Ore., Caroline Reay and Gerry Williams, who were on Maui celebrating their anniversary, described their ordeal in trying to evacuate from the Pioneer Inn in Lahaina town and what they saw as they drove off.
"It was just insanity at one point," Reay recalled. "On the other side of the roadway a fire vehicle was moving along and a young man, a firefighter, was being dragged along on the outside, and two blocks down they stopped and they were doing CPR on him. It was complete chaos."
U.S. Fire Administrator Lori Moore-Merrell apparently was briefed on the incident by Maui officials and told MauiNow that firefighters were outpaced by the Lahaina fire and had to abandon their truck and evacuate in a different vehicle.
"So they all got into a vehicle. One of them — they couldn't all fit, so one of them ... was held onto and unfortunately partially drug. And so he is severely injured, but he is recovering well."
Lee said he is unaware of any other major injuries to firefighters during the ongoing response to wildfires in Lahaina, Kihei and Upcountry Maui.
(c)2023 The Honolulu Star-Advertiser
Visit The Honolulu Star-Advertiser at www.staradvertiser.com
Distributed by Tribune Content Agency, LLC.
RELATED: 'All our houses were burned down to ashes': FFs among those who lost homes in Hawaii wildfire
McClatchy-Tribune News Service