Injured Mont. firefighter has second surgery
Dan Steffensen, 65, remains intubated and sedated after a shift in winds sent flames over his fire engine while he was fighting the Harris fire
---
Mike Kordenbrock
Billings Gazette, Mont.
SALT LAKE CITY — The Red Lodge firefighter who was flown to the University of Utah Burn Center in Salt Lake City last week to be treated for severe injuries underwent his second surgery of the week Thursday.
Dan Steffensen, 65, was burned last week after a shift in winds sent flames over his fire engine while he was fighting the Harris fire in Carbon County north of Joliet as a part of a two-person crew.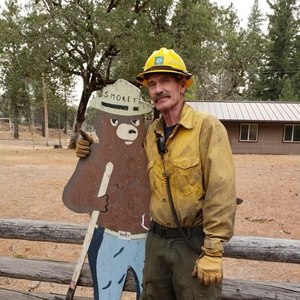 Steffensen "did really well," with Thursday's surgery, according to a social media update published Thursday afternoon by Red Lodge Fire Rescue.
Surgeons and medical professionals worked to removed burned tissue from Dan Steffensen's body with the exception of his face, which they will continue to let heal on its own for the next few weeks, according to the update.
Red Lodge Fire Rescue reports that Steffensen remains intubated and sedated and that doctors are being particularly careful because he has had "a touch of pneumonia."
"His lungs were not worse this morning, which is positive," the update says.
The tentative hope is that Steffensen can have his tube removed this weekend. Extubation will be dependent on how he responds to antibiotics for pneumonia and surgery.
Red Lodge Fire Rescue concluded its post with the request that people "Keep the healing energy flowing!"
In a message shared on the Red Lodge Fire Rescue Facebook page Thursday, Dan Steffensen's family expressed their gratitude.
"I am so overwhelmed by the outpouring of love and support EVERYONE is showing for Dan. We are so grateful," the message begins. "His second surgery today should help boost his recovery and hopefully he can get that dern vent tube out very soon. Please let people know that Dan's family is humbled and blessed by their concern."
Previous updates from Red Lodge Fire Rescue have characterized Steffensen's recovery process as a long and difficult one which will have him in Salt Lake City for about six months. His first successful surgery was completed on Monday, after which Red Lodge Fire Rescue reported that he was alert and communicating with family and firefighters.
A GoFundMe started by Red Lodge Fire Rescue Public Information Officer Amy Hyfield to help Steffensen pay for expenses related to his injuries has raised $77,510 from 992 donors. The fundraiser goal is $100,000.
Alongside his family, Steffensen has had local firefighters and Red Lodge Fire Rescue firefighters by his side since he arrived in Salt Lake City.
"The firefighters in Utah have been incredible," Hyfield said.
Unified Fire Authority in Utah met Steffensen with an honor guard after he arrived sometime late Friday night. He was injured at about 4 p.m. last Friday and initially taken to Billings for treatment. After he was flown to Utah, United Fire Authority had firefighters stay with him at the hospital, according to Hyfield. Likewise multiple firefighters from Red Lodge Fire Rescue, including Fire Chief Tom Kuntz, have spent time with Steffensen since he was hospitalized. In one instance a Red Lodge firefighter was able to make the trip down from a wildland fire he had been working in Idaho. A Red Lodge firefighter was there to see Steffensen first thing in the morning Saturday, according to Kuntz.
Kuntz flew down last Saturday afternoon and returned to Montana on Monday after seeing Steffensen one more time.
"It was an honor to be there," he said. "It was an honor to go there and support him. It's very emotional, it's a very special moment in my life to be there with him and to see the outpouring of support from the firefighting community."
For the last 30 years Kuntz has been with Red Lodge Fire Rescue. He said he can't recall an instance of a Red Lodge Fire Rescue firefighter being seriously injured over that span, and guessed that the lack of severe injuries reported at his agency goes back even further.
Steffensen is the kind of person who did things the right way and made sure other people did too, Kuntz said. He would always show up when needed, and has acted as a mentor to new firefighters.
"You know he's also an example to our whole organization in his level of commitment," Kuntz said. "But deeper than that he's a great person and a friend to most of us. I think that probably speaks more to him than his commitment to the fire service. Just the relationships he's built with everybody in our organization. People enjoy being with him."
Kuntz emphasized the degree to which support has poured in from coast to cast is both a testament to the firefighting community, as well as the general community and the people of Red Lodge and surrounding areas.
"This is probably the most difficult thing that could happen to Dan and the people that care about him," Kuntz said. "We have been honored at the level of support that we have received from both the firefighting community and the local community."
Over roughly the last month Red Lodge Fire Rescue has responded to the destructive Robertson Draw Fire that rattled some in the Red Lodge community as it burned through Carbon County homes and up Mount Maurice. In the same span Red Lodge Fire Rescue has been involved in the high elevation Beartooth Mountains search for missing 23-year-old hiker Tatum Morell. During that time the agency has also responded to numerous other incidents.
"It's been a busy month for sure. We've had a lot of significant incidents, and it's probably been some of the hardest times we've ever had. But you know, this is what our folks train for, it's what we commit to do," Kuntz said.
The fire chief reflected on how the last month and the actions his agency has taken "speaks a lot to the people that commit to our organization and commit to giving their time."
He said in an emergency situation it's not necessarily hard to find people to help, but that the greater challenge is finding people willing to be a part of an organization and train and be ready when they are needed over a period of time, even when it's a call in the middle of the night for people you don't know.
"That's something that Dan did," he said.
Red Lodge Fire Rescue is continuing to coordinate visits to Steffensen, something that is complicated in part by the busy fire season in Carbon County. Additionally, Hyfield said they don't want to overwhelm him, his family, or the hospital, by sending too many people at once.
"He's got a special place in all of our hearts and I think it's important that we have somebody there that's with him while he's undergoing his surgeries," Hyfield said.
Steffensen has been with Red Lodge fire since 2015 and in 2017 was selected as Red Lodge Fire Rescue's volunteer Firefighter of the Year. He works on a fuel mitigation and initial attack crew. In the summers he works to reduce hazardous fuels around homes and responds to emerging wildland fire, is a nationally qualified wildland firefighter, and has worked as an engine boss and tender operator. Steffensen has fought fires in Montana, Oregon, California and other western states, according to Red Lodge Fire Rescue.
The Harris fire burned 2,334 acres amid light, flashy fuels and heavy tall grass in forested draws. A total of 86 personnel were assigned to the fire, which is now 100% contained. The fire is thought to have started July 15. InciWeb, an interagency fire information website, lists the cause of the fire as unknown.
___
(c)2021 the Billings Gazette 
McClatchy-Tribune News Service