Northern Calif. wildfire death toll rises to 81, 870 missing
The Camp Fire death toll climbed to 81 after the remains of two more people were found, authorities said
---
By Jason Greene
Mercury News
PARADISE, Calif. — The Camp Fire death toll climbed to 81 Tuesday after the remains of two more people were found, authorities said.
The remains were found inside structures in Paradise, according to the Butte County Sheriff's Office.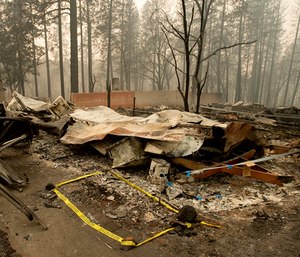 Meanwhile, the number of people unaccounted for jumped to 870, an increase of 171 over Monday. The sheriff's office said it was due to detectives working through a backlog of voicemails.
The sheriff's office had some good news. The number of people who have been accounted for rose by 195, bringing the total to 1,864.
Firefighters are also gaining ground on the historic blaze, which has consumed 152,250 acres since igniting the morning of Nov. 8. As of Tuesday night, the fire was 75 percent contained.
Cal Fire expects to fully contain the blaze by Nov. 30.
Mother Nature is expected to lend a hand. The burn area could get up to six inches of rain through Saturday, according to the National Weather Service. But the deluge could bring flooding and landslides. As such, the agency has issued a flash flood watch.
To date, the fire has destroyed 12,637 residences and 483 businesses. Tens of thousands have been displaced.
The cause of the conflagration remains under investigation. PG&E reported damage to a transmission line near Poe Dam about 15 minutes before flames ignited in the area. A distribution line in nearby Concow also malfunctioned, possibly sparking a second fire.
Copyright 2018 Mercury News
McClatchy-Tribune News Service