Preventing wildfires through public education
Sometimes community education isn't enough to prevent disasters
---
By Allison G.S. Knox, faculty member at American Military University
Recently, a Border Patrol agent was fined $8 million in restitution, beginning with an initial payment of $100,000, for starting a 47,000-acre wildfire in Arizona's Coronado National Forest. Dennis Dickey sparked the wildfire during a "gender reveal" party when he fired a rifle at a target intended to reveal whether his unborn child would be a boy or a girl. The target was filled with Tannerite, an extremely flammable substance designed to explode with either pink or blue powder that would reveal the baby's gender.
It is easy to say that when incidents like this happen, the general public needs to be better educated. Education can help the public to understand the implications of foolish acts that can start major fires and refrain from such activities.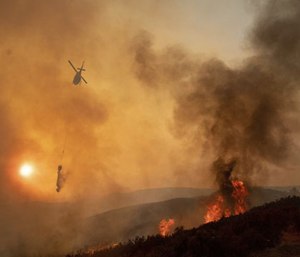 Health and safety hazard public education
For many disciplines like public health, the concept of educating the public is an important one. Education can reshape how public health and safety officials handle certain issues and make lasting changes. It can be difficult for people affected by such an incident to understand how anyone could ignore what most of us know about wildfires and start a blaze with an incredibly flammable substance.
In numerous instances, education does work well with the general public and prevents emergencies before they happen. Unfortunately, sometimes education isn't enough. Some people have to learn the hard way though experience.
Border Patrol Agent Dickey likely understood the fragility of his environment when it came to wildfires, but he ignored it. He will pay for his mistake – probably for the rest of his life – and those who lost their homes and businesses in the fire won't get back what they've lost.
About the author
Allison G. S. Knox is a faculty member at American Military University, teaching courses in Emergency and Disaster Management. Her research interests are comprised of emergency management and emergency medical services policy issues. Prior to teaching, Allison worked in a level one trauma center emergency department and for a Member of Congress in Washington, D.C. She holds four Master of Arts degrees in emergency management, international relations, national security studies and history. She is a certified lifeguard, MET and is also trained in technical large animal emergency rescue. Allison currently serves as advocacy coordinator of Virginia for NAEMT, chapter sponsor for the West Virginia Iota Chapter of Pi Gamma Mu International Honor Society, and faculty advisor for the Political Science Scholars. She is also on the Board of Trustees and serves as chancellor of the Southeast Region for Pi Gamma Mu International Honor Society in the Social Sciences. She can be reached at IPSauthor@apus.edu. For more articles featuring insight from industry experts, subscribe to In Public Safety's bi-monthly newsletter.