Thumbs up! The top social media posts of 2021
These are the stories our readers loved, hated, clicked on, shared, and had a lot to say about on Facebook, Instagram and LinkedIn
---
If you look at the FireRescue1 stories that were the most popular on social media, you get an interesting collection of fire service news from this year.
Let's take a look back, starting with the Facebook posts that got the most engagement, then moving to the clickiest of Instagram and LinkedIn.
Feel free to join the conversation!
Top facebook posts
There wasn't much debate here; it was really more of a "pile-on" of comments railing against the premise of the petition. Check out the comments about the petition before and after the movie's release.
The sight of so much turnout gear piled in front of headquarters clearly made an impact. See what readers had to say.
Many of the reactions followed this theme: "Send her the bill for the rescue!" Check out the commentary.
This story got readers thinking about multiple kinds of discriminatory practices. Some readers offered words of support for Firefighter-EMT Tracy Blanchette. Have you had similar experiences? 
Some commenters would like to see unhappy firefighters leave the profession, while others have a lot of pride in doing whatever the job may bring. 
Readers have some ideas about what might really be going on here. 
Living in L.A. is pricey, right? That's one theme of the comments. But readers also had some reflections about what residency rules might be best. 
Top instagram posts
The Miami-Dade Fire Rescue vehicle story was popular on Facebook, Instagram and LinkedIn. "Florida needs this" was the theme of some comments. What do you make of it?
Check out the Stamford Fire Department's impressive rescue!
Congratulations again to Arianna Lopez!
top LinkedIn post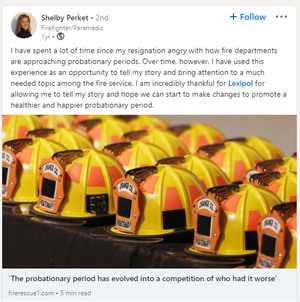 Shelby Perket writes that turning a blind eye to hazing and harassment inhibits the growth of new members. Her story got a lot of love. 
'The probationary period has evolved into a competition of who had it worse'
Do you know that FireRescue1 is on LinkedIn? Our page is a good way to keep track of news you need. And we are building communities where you can connect and converse with your peers. 
And of course, we appreciate all the follows and comments on Facebook and Instagram. Keep letting us know what you think next year.