'I didn't think. I just reacted'
Firefighter Megan Warfield leapt into action to help a victim in an overturned car after being involved in a multi-vehicle crash – and gave birth 23 hours later
---
Baltimore County, Maryland, Firefighter Megan Warfield, at nine months pregnant, was returning from the second annual golf tournament in her late father's honor with her mother, when they became involved in a three-car crash.
Warfield's family had started the John J. Heath Jr. Foundation in her father's name to provide scholarships and chemotherapy care kits to patients at the center where he received cancer treatments, and to sponsor families at holidays.
Around 4 p.m. that afternoon, after the golf tournament finished, Warfield and her mother had dropped off leftover food to the Bowley's Quarters Volunteer Fire Department, the station Warfield volunteers at, and were on their way home.
I spoke with Warfield about the crash and how her training kicked in.
"When the crash took place, I was nine months pregnant. Thirty-seven weeks to be exact," she said. "I wasn't even thinking about being pregnant at the time."
Warfield checked her mother for injuries and then immediately exited the mangled vehicle to help the other victims. She began providing care to a woman trapped in an overturned car and stayed with her until Squad 213 arrived to free the victim. After all patients were evaluated, she agreed to an evaluation herself.
'What I signed up for'
"It's what I signed up for in my career," Warfield said. "I didn't think. I just reacted. It is amazing what women can do while pregnant."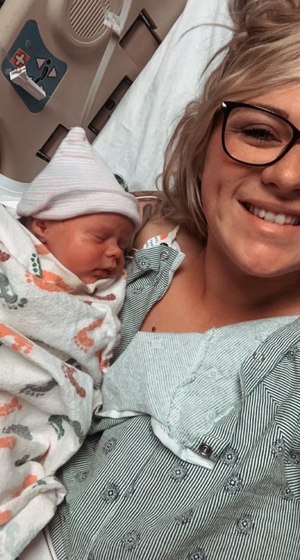 Warfield, who originally was going to climb into the overturned vehicle, stopped herself.
"I was like, 'What are you doing? You're nine months pregnant,'" she told NBC News in an interview.
In pictures circulating on social media and the internet, Warfield is seen kneeling by the trapped woman. She made sure the victim stayed in place so she would not risk making her injuries worse.
"I tried the keep the woman calm," Warfield added. "It was a pretty traumatic event."
After checking into the hospital, Warfield learned that the crash had started the labor process.
"The crash had shift Charlotte into a transverse position," Warfield said. "I delivered 23-hours after the crash. I had a c-section and it went smoothly."
Charlotte Joan or "CJ," weighing six-pounds, 14-ounces and 19.6 inches long, is the daughter of Warfield and father, Joshua Daugherty, a paramedic supervisor for Harford County Department of Emergency Services and one of the responders to the incident on October 3.
Warfield, a Baltimore County firefighter, has been on staff for nearly three years. She is typically assigned to an engine, but was on modified duty at the county's fire and rescue training academy during her pregnancy.
Baltimore County Fire Chief Joanne Rund told NBC News that Warfield embodied how her employees "give their all," on and off duty.
---

Read next:
20 awesome EMS saves of 2022
The year was full of disaster responses but also brought impressive extrications, off-duty saves, helpful Boy Scouts and a rampaging camel
---