Comparing COVID-19 or civil unrest to 9/11? I don't think so
COVID-19 is absolutely worse based upon the number of people who have died – but they were not murdered
---
Like most of you – correction, all of you – I've been over-occupied and sometimes overwhelmed by certain aspects of the current state of our country. First COVID-19, then civil unrest and, most recently, wildfires.
(We'll discuss wildfires another time, but here's a preview: Quit building combustible homes without fire protection systems in combustible forests. You can't have all-natural wooden homes with wood roofs with wood and related landscaping in the same place where all that wood came from – and then go into shock when your stuff catches on fire. Brave firefighters are once again being placed in positions of danger for very predictable and preventable problems.)
Now back to COVID-19 and civil unrest. To be clear, as it relates to the civil unrest, I am disgusted by the behavior of some cops and civilians, but unfortunately, there are always going to be some bad people. With more training, qualified leadership and better systems in place, we can have even better cops. As far as truly "bad" people, the only thing between them and us is … the police! We need cops, but just like an untrained, unsupervised firefighter, it's not gonna work well. We need qualified, continuously trained, well-led cops. It seems simple.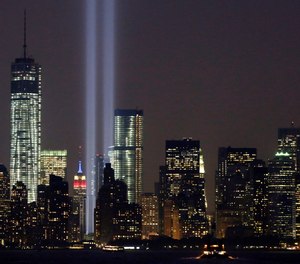 What about the civilian side? Unhappy with how things are going? Me too. Good, let's protest loud and clear, and then VOTE for whoever you want. But as I write this, watching Kenosha on fire, I know that burning buildings down will not fix any problems except giving Kenosha and its mutual-aid partners more fire to fight – and more work for funeral directors. 
As a part of what's been going on, I've listened to people comparing 9/11 to the challenges of COVID-19, the civil unrest … and I shake my head. There is no comparison. Allow me to explain.
9/11 was a deliberate attack on everything our nation purely stands for. The good, the bad and the ugly. America. If it was part of the thread of our nation, it was part of their attack plan.
Some would point out that over 180,000 people in America have been killed by COVID-19, compared to nearly 3,000 people murdered after terrorists flew planes into the World Trade Center and the Pentagon, and a third plane that had been hijacked crashed in Shanksville, Pennsylvania, on 9/11. Some would argue that COVID-19 is far worse. It absolutely is worse based upon the number of people who have died. But they were not murdered. 
See the difference? Died vs. murdered.
To be clear, individuals being murdered is inexcusable. Anyone being murdered by anyone. Assault. Robbery. Rape. Inexcusable. We are a country of laws. We must have laws, and they must be followed no matter what side of the law you are on. 
However, be it the civil unrest causes and reactions or the spread of disease, we CAN have an impact, individually as Americans. We can make personal decisions on how to deal with a visible and known problem. We can decide to control ourselves. We can decide to not burn a building down, shoot someone, or place a knee on someone's throat. 
But in comparison, we, as individual Americans, have no control over an attack meant to destroy what we stand for – and brutally impact everyone who is an American. We can wear a mask. We can social distance. We can wash our hands. We can respect one another. Those are things we can do. However, when a terrorist group decides to attack and murder us, we must count on our government and our military to protect us. 
As 9/11/20 approaches, take time to solemnly remember those thousands of innocent people who were murdered on that day. Hopefully, your community, like mine, will have an event to honor and remember those murdered on 9/11/01 – an event organized and led by firefighters, as we have done since 2002.
Consider then reflecting on what you, me and we can do to minimize the spread of disease. Think about how we can genuinely increase better understanding of how things can be changed at the local level, in our own communities, so everyone can feel safer. That is something we can absolutely impact immediately.
Certainly, focus on the challenges of today, but never forget the difference between a malicious attack on our nation that you and I have no control over, compared to things we certainly can have control over.