'I remember one thought as we learned another plane was coming'
A FF/paramedic captain recounts hunkering down with victims at the Pentagon on 9/11 while expecting another attack
---
New York City was shaken the morning of September 11, 2001, when the first hijacked plane, American Airlines Flight 11, crashed into the north tower of the World Trade Center at 8:46 a.m. Minutes later, at 9:03 a.m., hijacked United Airlines 175 crashed into the south tower. Breaking news coverage of the event began, showing billowing smoke clouds coming up from the World Trade Center site in New York City.
At 9:37 a.m., hijacked Flight 77 crashed into the western façade of the Pentagon in Washington, D.C., killing all 59 people on board, and 125 military and civilian personnel inside the building. Fire and EMS units from all surrounding jurisdictions were immediately dispatched.
I spoke with Captain (ret.) Christopher Amos, who responded to the Pentagon while off duty.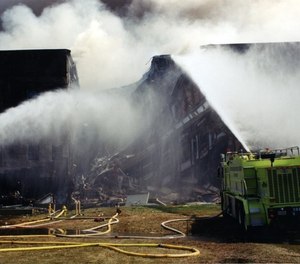 "I was assigned as a firefighter/paramedic at Reagan National Airport working for the Metropolitan Washington Airports Authority (MWAA)," Amos recounted. "I served the airports authority for 26 years and 7 months, with my last assignment at Dulles Airport."
On the morning of 9/11, Amos was getting off shift, standing in the kitchen of the fire station waiting for a class to begin when the station captain came in and turned the TV on to show the scenes from New York City.
"Shortly after, we watched as the second plane struck the towers and we were told the airport was closing," Amos told me. "There were a number of firefighters from other jurisdictions attending and they began to pack up their belongings and to be escorted off the airfield."
The Reagan National Airport's fire station physically sits in a secure portion of the airfield, Amos said. The station's engine and ambulance crews were responding to a motor vehicle collision in front of the main terminal when the crash net alert went off inside the station.
"The controller who activated the crash net said, 'This is an Alert 3. We have a 757 down on the north end of the airfield,'" Amos said. "The station dispatched a crash assignment onto the airfield, only to learn it was at the Pentagon."
'Do I seek shelter or stay with these patients?'
I thought about my family and that I may never see them again, then the decision was clear. It's my obligation to stay and try to protect those people."
Amos, knowing the magnitude of the situation, but off shift at the time of the incident, knew that they were going to need extra assistance at the scene. He teamed up with another paramedic captain, Harry Hopkins, and the agency's fire marshal, Charles Burroughs, and rode to the scene.
The airport authorities' protocol was to dispatch one 3,000-gallon aircraft rescue and firefighting apparatus.
"Foam 331 [a unit from Amos' station] arrived shortly after and began flowing foam into the opening created by the hijacked aircraft," Amos said.
"When Battalion Chief (ret.) Michael Defina Jr. arrived on the scene to direct the airport's authority crews, he requested an additional 3,000-gallon ARFF rig," Amos said. "This is why you can see two ARFF crash trucks side-by-side in published photos."
As Amos and his two coworkers arrived at the Pentagon site, his captain at the time had just assisted a woman through the opening of the building as it collapsed.  
"We didn't have time to really think," Amos recalled. "I remember one thought as we learned another plane was coming. I thought, do I seek shelter or stay with these patients, who at the time could not be evacuated safely. I thought about my family and that I may never see them again, then the decision was clear. It's my obligation to stay and try to protect those people. Any thoughts of self-preservation went away."
With the unconfirmed reports of a second plane aimed at D.C., Amos said it was impossible to evaluate all the patients he was currently with.
"I put my fire gear on and laid down with the patients to keep a low profile," Amos added. "The all-clear was given by an FBI agent who walked up and told us the plane is down in Pennsylvania."
At 10:07 a.m., Flight 93 crashed into a field in Somerset County, Pennsylvania, killing all 40 passengers and crew.
'We must be situationally aware'
Amos has a deep-rooted family history of public service, including his father, who was the assistant chief of community rescue service, in Hagerstown, Maryland, and volunteered for the Volunteer Fire Company of Halfway (Maryland). His son, Christopher, followed in his father's footsteps and is a firefighter with MWAA.
"I was fortunate to work with my son on my last day," Amos said. "My youngest son is a Marine to honor his grandfather. My daughter, Bethany, is a nurse educator who runs the nurse residency program at Meritus Medical Center, in Hagerstown, Maryland."
After retirement, Amos accepted a position as the educational programs administrator for Washington County Division of Emergency Services at the newly constructed Washington County Public Safety Training Center.
Amos left the site just after midnight on September 12. MWAA personnel and equipment remained on the scene for 9 days, rotating 12-hour operational periods supporting the various USAR teams who were operating on site.
"I don't like to relive the events, and other than honoring those we lost, I try to keep a low profile every September 11," Amos said. "It is a somber day for me, accounting for the losses. I gave talks for a couple years after and then went into a more reclusive personal time where I wouldn't associate with anyone on the anniversaries."
Though Amos doesn't like to relive the events of 9/11, he does reflect on what we should learn as we approach the anniversary.
"We have to get our country back from the polarized state we are in right now," Amos said. "We stood side-by-side as Americans for some time after. September 11 was our generation's Pearl Harbor, and we are still grieving," he said. "Now we are angry, we've been through the stages of grieving every year. We cannot forget the people we lost, and we have to do everything possible to preempt any possibility of that ever happening again."
Amos added, we must be situationally aware and understand that there are evil people who are simply out there to disrupt our normal way of life.
A total of 2,996 people died on September 11, 2001, including the 19 terrorist hijackers aboard the four planes. Included in the death toll are the 343 firefighters and paramedics from New York City, 23 New York City police officers and 37 Port Authority police officers who died attempting to rescue victims at the World Trade Center site.
Amos says he was just one person in the multi-agency, multi-jurisdiction, multi-county and multi-state response to the Pentagon.
---

Read next:
'I didn't begin my career thinking about terrorism': Running command at the Pentagon
Years of preplanning aided the incident command of an MCI, building fire, technical rescue, hazmat, and terrorism crime scene all in one
---
This article, originally published in September 2022, has been updated.