Texas firefighter who suffered heart attack recovering
The chief said crews' use of CPR and an AED likely saved Ryan Beattie's life
---
By FireRescue1 Staff
DALHART, Texas — A firefighter who suffered a heart attack while battling a wildfire last month is on the road to recovery. 
Dalhart Volunteer firefighter Ryan Beattie, 32, was fighting a grass fire when he fell ill Feb. 23, reported Amarillo.com. Crews found Beattie face down on the ground behind a fire truck during the call; they quickly began CPR and used an AED. He was transported to the hospital, where he was treated and placed in the ICU.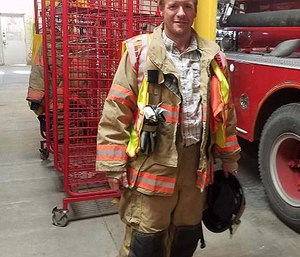 Fire Chief Curtis Brown said Beattie went off the ventilator and had breathing tubes removed. He said crews' use of CPR and an AED likely saved Beattie's life. 
"We are quite relieved," Chief Brown said.
A GoFundMe page has raised over $14,000 for Beattie's medical expenses; he does not have medical insurance.