Firefighter punched by man while trying to rescue bird
The owner of the bird was "belligerent and hostile" to the fire captain and punched the captain once in the face
---
By Gretchen Wenner
Ventura County Star
OXNARD, Calif. — An Oxnard fire captain was assaulted in Port Hueneme Sunday afternoon when trying to help a man recover his pet bird, authorities said.
The incident led to the man's arrest and resulted in minor injuries for the firefighter, according to the Port Hueneme Police Department.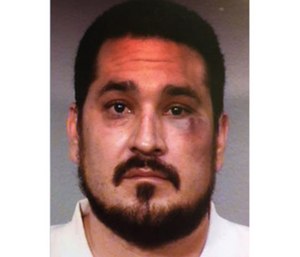 Around 4 p.m., Oxnard Fire Department personnel responded to a call at an apartment complex in the 100 block of Seaview Street to help a resident whose pet bird had escaped and was sitting in a tree, police said. The location is near the city's far southwest edge, where it abuts the Port of Hueneme.
As fire personnel set up a ladder, the bird flew onto the roof of the apartment complex, authorities said. The owner was "belligerent and hostile" to the fire captain and punched the captain once in the face, police said. Fire personnel was able to subdue the man after a brief struggle and detained him until police officers arrived.
The fire captain suffered minor injuries from subduing the suspect and not from the assault, authorities said.
Police believe the bird was a cockatiel, according to Sgt. Frank Torpey. The bird apparently was not recovered. The man apparently suffered minor injuries while being restrained.
The man, identified as Tony Hall, 38, of Port Hueneme, was arrested on suspicion of battery with injury on emergency personnel, a felony offense, according to booking records. He remained in Ventura County jail Monday evening with bail set at $20,000.
Copyright 2018 Ventura County Star