Firefighters, neighbors save 3 children from fire after domestic dispute
Two boys, 1 and 3, were rescued from the home after the father set the apartment on fire
---
By Julius Whigham II and Bill DiPaolo
The Palm Beach Post
RIVIERA BEACH, Fla. — Quick action by neighbors and firefighters — and a little luck — saved three infants trapped inside a burning apartment on Friday that police say was set on fire by their father after a domestic dispute with the children's 19-year-old mother.
Using hammers, chairs and whatever they could grab to smash through hurricane windows, neighbors entered a burning second-floor unit at the Stonybrook Apartments. They handed a 3-year-old boy and a 1-year-old boy out the window.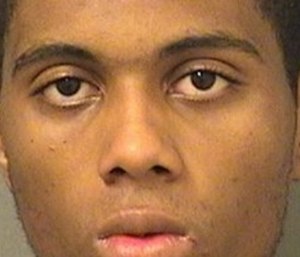 "They kept pounding and pounding. They were using hammers and chairs, anything they could get their hands on. They wouldn't stop until they got those kids out," said Riviera Beach Mayor Thomas Masters.
A video taken at the scene shows neighbors struggling to pound through the doors and flames coming through the roof.
"There's a new-born baby in there! Somebody locked the doors! Somebody get that baby out of there," a woman screams in the video.
A one-month-old girl was still inside, residents told firefighters when they arrived about 6 p.m.
Firefighters were unable to see through the heavy smoke. A thermo-imaging device led them to the infant. She was lying on a bed. A door had somehow landed on top of her, shielding her from the flames.
The one-month-old girl was unresponsive when firefighters brought her outside. She was revived by medical technicians.
"I have no idea how that door ended up on top of that baby. I'll take every bit of luck I can," said Riviera Beach Fire Rescue Battalion Chief Ken Brock.
The two boys have been released from the hospital. The one-month-old girl remains hospitalized at St. Mary's Medical Center. Her condition was not released.
The mother, who is 19, was staying at the hospital with her daughter.
"Outside, (the mother) is showing strength. Inside, she is hurting," said Masters.
The fire started when Velmando J. Williams, 22, of Riviera Beach set the apartment on fire with his three young children inside, according to Riviera Beach officials.
Williams is accused of attempted murder, first-degree arson, false imprisonment and simple domestic battery after authorities alleged that he intentionally started the fire.
Williams is scheduled for a court hearing today.
"It's unbelievable that anyone survived. The apartment looks like there was an explosion inside," said Masters, who visited with the family in the hospital.
The reason the mother was outside the apartment and the children were inside was "a result of the domestic dispute," said Riviera Beach City Manager Jonathan Evans.
The apartment unit sustained major damage and six neighboring units were impacted by fire, smoke and water damage bad enough to require the tenants to leave. The local chapter of the Red Cross and Riviera Beach officials and residents are providing shelter and assistance for the families. The city also offered shelter at the Lindsey Davis Community Center.
Families forced to move by the fire can pick up school uniforms from Dr. Mary Mcleod Bethune Elementary School and West Riviera Beach Elementary.
"Tragedy can bring out the best in humanity. The effort to help the families speaks volumes about how this community rallies to help each other," said Evans.
The families forced to leave are expected to be in other units in Stonybrook Apartments at 1555 Dr. Martin Luther King Jr. Blvd., just west of Australian Avenue on Monday, Evans said.
A State Fire Marshal investigator responded to the scene and determined that the fire had been set intentionally.
Williams was identified as the suspect after investigators spoke to the children's mother and other witnesses. Court records show that Williams has a history of arrests in Palm Beach County, including a 2015 arrest on multiple counts of aggravated battery.
Prosecutors dropped three counts and reduced a charge of aggravated battery on a pregnant person from a felony to a misdemeanor, court records show. Williams was placed on 12 months probation in July after negotiating a plea agreement.
The city is also attempting to help the children obtain new clothing. Information about donations can be obtained by calling the Mayor's citizen response team at 561-845-4145.
Copyright 2017 The Palm Beach Post