Search area expands for Army helicopter missing off Hawaii
The Army, Marine Corps and Navy joined the search along with Honolulu firefighters and lifeguards
---
By Audrey McAvoy
Associated Press
HONOLULU — The U.S. Coast Guard said Thursday it was now searching up to 50 miles (80 kilometers) off Hawaii for five soldiers missing after their Black Hawk helicopter crashed during nighttime training.
Swift and dynamic currents prompted the rapid expansion. About 24 hours earlier, the search was focused on waters about 5 miles (8 kilometers) off shore.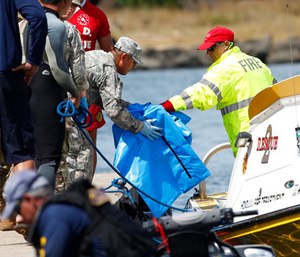 "This is normal and we have the assets, and the resources to plan for it," Lt. Scott Carr, a spokesman for the Coast Guard in Hawaii, said as rescuers prepared for a third night of searching.
The two pilots and three air crew members on board went missing when their helicopter lost communication with another Black Hawk at about 9:30 p.m. Tuesday.
The water depth varied across the vast area. Rescue crews were only searching on the surface for the time being.
Airplanes scoured outer edges of the search zone. Helicopters and vessels were searching closer in, about 15 to 20 miles (24 to 32 kilometers) offshore. The Army, Marine Corps and Navy joined the search along with Honolulu firefighters and lifeguards.
"Everyone has been resolute and determined that we are going to get after this and bring our soldiers home," said Lt. Col. Curtis Kellogg, a spokesman for the Army's 25th Infantry Division. "That's what we're focused on. And you can see it in everything they do. There's a purpose, there's a seriousness and there's a determination."
Mario Vittone, a retired Coast Guardsman and expert on sea survival, said the length of the search will depend on the likelihood of finding someone alive.
In colder areas where ocean temperatures are below 60 degrees, a search would be over in 24 to 36 hours even if no one was found. But in Hawaii, where ocean temperatures are often over 75 degrees and air temperatures are also warmer, people can survive longer and searches will last longer, Vittone said.
One of the planes the Coast Guard was using, the HC-130 Hercules, has infrared technology that's able to spot a one-degree change in temperature which will help rescuers find people in the water, Vittone said. The airplane has a screen that will overlay infrared, night vision and radar readings to give operators the best possible view of the ocean at night, he said.
On Wednesday, firefighters found and collected what appeared to be pieces of helicopter fuselage and a helmet.
The two Black Hawk crews were conducting training between Kaena Point and Dillingham Airfield when communications were lost.
The two helicopters are part of the 25th Combat Aviation Brigade based in Hawaii.
Early last year, 12 Marines were killed when two CH-53E helicopters collided during nighttime training off Oahu's North Shore. A Marine Corps investigation found low aircraft readiness led to inadequate pilot proficiency. It also blamed the squadron's lack of focus on basic aviation practices. Poor light made it difficult for crews to gauge the distance between the two aircraft, the Marine Corps said.
The Army has 2,300 UH-60 Black Hawk helicopters. It's been using them since the 1970s to transport troops, lift heavy equipment and carry out other missions.
In April, one crew member was killed and two others were injured when an Army Black Hawk helicopter crashed onto a golf course in Maryland during a routine training flight.
In 2015, 11 crew members were killed when an Army Black Hawk helicopter crashed into the water off Eglin Air Force Base in Florida.