Ark. fire captain accused of racist assault resigns
An Asian man claimed the white fire captain said "I'm going to kill you and your kind of people"
---
Update March 29, 2021: Bentonville Fire Department Capt. Benjamin Snodgrass resigned Friday following his arrest on third-degree assault charges for allegedly attacking an Asian man he didn't believe was American, according to the Associated Press. 
The City of Bentonville released a statement on Snodgrass' resignation, stating, "He expressed regret and an apology for any embarrassment to his family, fellow firefighters, friends and the City of Bentonville." 
Bentonville Mayor Stephanie Orman said Thursday that a task force was formed to help lead the city's efforts to improve diversity and inclusion.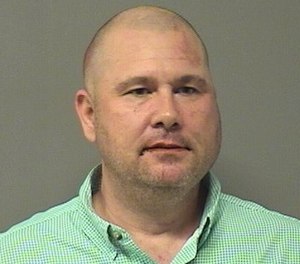 Snodgrass pleaded not guilty to the assault charge and a charge of public intoxication and is set to be tried on both charges on May 6. 
Original report:
By Laura French
LITTLE ROCK, Ark. — An Arkansas fire captain was arrested and suspended after being accused of a racist assault. 
The incident reportedly occurred at a casino resort on March 13. Police say off-duty Bentonville Fire Department Capt. Benjamin Snodgrass, who is white, allegedly asked Liem Nguyen, who is Vietnamese, if he knew he was in America before pushing him, causing both men to fall to the ground, according to KATV. Nguyen reportedly told police that he punched Snodgrass in self-defense, after which Snodgrass allegedly punched him back.
Officers wrote in a report that Snodgrass smelled of intoxicants, was unable to speak clearly and told them he was "hammered." Police also wrote that Snodgrass admitted he approached Nguyen and confronted him about not being American but that nothing more happened. 
Nguyen's shirt was ripped and he had a red mark under his left eye, and Snodgrass had blood on his lips and left ear and redness on his knuckles, according to the police report. Snodgrass was arrested and charged with third-degree assault and public intoxication. He pleaded not guilty on both charges and was released on a $1,500 bond on March 14. The city of Bentonville placed Snodgrass on paid administrative leave pending the investigation, a city spokesperson said. 
Nguyen said in an interview with KATV that he was minding his own business when Snodgrass allegedly approached him and said "your kind of people are not supposed to be here, I'm going to kill you and your kind of people." Nguyen also said Snodgrass initially walked away before allegedly returning and starting to threaten and push him. 
Arkansas does not currently have hate crime laws that increase penalties for assaults targeting victims based on their race, religion or sex.