Firefighter shoots, detains man who tried to rob him
The firefighter shot Jaylan Franklin once after Franklin forced him to drive to ATMs to pull out cash, and made him go back to his house to get his wife's card
---
By Grace Toohey
The Advocate
ZACHARY, La. — A reserve constable and firefighter, first kidnapped and robbed at gunpoint early Monday, later became the "hero" of the incident, able to shoot and detain his own assailant, authorities said. The assailant sustained only minor injuries and was later arrested.
Hours after the predawn encounter, which started in Zachary, included several ATMs and ended with the shooting in Baker, 22-year-old Jaylan Franklin was booked into Parish Prison on aggravated kidnapping, armed robbery, and other counts, said East Baton Rouge Sheriff's Office spokeswoman Casey Rayborn Hicks.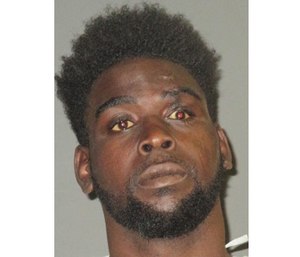 Franklin was briefly treated, then discharged, at a local hospital for injuries from the gunshot.
Authorities said Franklin first approached the firefighter on a bicycle just before 3:30 a.m. as the victim was leaving his property in the 21000 block of Ligon Road in Zachary, the same block as Franklin's listed address.
Franklin demanded all the firefighter's money, and when he admitted he had no cash, Franklin pulled out a gun and forced him to go to an ATM to take out cash, Hicks said.
Hicks said Franklin forced the man to drive to several ATM locations to withdraw cash, but Franklin remained dissatisfied with the amount of money, and directed the firefighter to go back to his home in Baker to get his wife's ATM card.
The firefighter told Franklin to wait outside the home because he had big dogs that would attack, said Baker Police Chief Carl Dunn. Franklin agreed, but warned the firefighter that he would kill him and his family if he didn't return to the vehicle, Hicks said. Hicks said Franklin even asked specifically which windows in the home belonged the firefighter's son.
Once inside his house, the firefighter told his wife to call police and armed himself, Hicks said. But before police arrived, Franklin entered the home without permission. The firefighter then used his own weapon to fire one shot at Franklin, Dunn said.
Hicks said Franklin fell to the ground, injured, and the firefighter was able to physically restrain him before police arrived.
Dunn said Baker Police officers arrived at the home on Alba Drive in time to hear the shot fired.
Dunn said the man involved is a full-time firefighter in the Hazmat unit for the Baton Rouge Fire Department and a reserve deputy constable.
"To me, he's a lifesaver," Dunn said. "The results could have been terribly different than what they actually are. ... My victim seems to be a hero."
Officials declined to identify the firefighter by name. Dunn said no charges are expected to be brought against the firefighter.
Franklin, of 21680 Ligon Road, was booked into Parish Prison Monday afternoon on one count each of aggravated kidnapping, armed robbery, aggravated burglary and resisting an officer. He also had two active arrest warrants against him issued by the Zachary Police Department.
According to his arrest report, Franklin told detectives he "made a stupid mistake and robbed the victim of about $1,000 because he was going through a rough time."
Baker Police worked with the East Baton Rouge Sheriff's Office because the initial kidnapping and robbing happened in near Zachary, but the later shooting occurred in Baker.
Copyright 2018 The Advocate