Woman convicted in 1988 blast that killed 6 FFs requests release
One of a group of five that set a tractor-trailer on fire in 1988, causing the fatal blast, claims her health problems put her at risk of becoming seriously ill from COVID-19
---
Luke Nozicka
The Kansas City Star
KANSAS CITY, Mo. — One of five people sentenced to life in prison for a 1988 explosion that killed six Kansas City firefighters has asked a judge to release her over concerns she could die or become seriously ill if exposed to the new coronavirus.
Darlene Edwards, now 65, was convicted in the Nov. 29, 1988, explosion at a construction site along U.S. Route 71 near 87th Street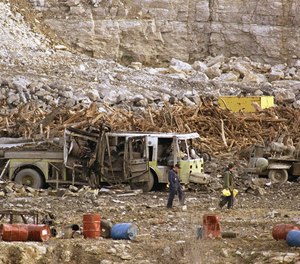 Prosecutors argued the five planned to steal tools to sell for drug money and set fire to a tractor-trailer in the early hours of the morning. It blew up, killing all of the arriving firefighters. Edwards has insisted she is innocent.
In a motion filed Tuesday in the Western District of Missouri, Edwards' lawyers asked the court to grant her compassionate release, arguing she is among the most endangered by a COVID-19 diagnosis. They asked for her sentence to be reduced to time served.
Edwards suffers from serious health issues, according to her attorneys. She needs medical attention for diabetes, breathing difficulties and high blood pressure, among other things.
Her lawyers also called prisons "tinderboxes for infectious disease." As of Wednesday, more than 2,800 federal inmates and about 260 Bureau of Prisons staff members had tested positive for the virus across the country, according to government data. Fifty-one federal inmates have died, including one at the Federal Medical Center Carswell in Fort Worth, Texas, where Edwards is housed.
Edwards has sought compassionate release before. When she wrote to the prison's warden requesting it in April 2019, she noted she and her co-defendants have always maintained their innocence in the explosion.
"We are innocent," she wrote. "I know innocence has no part in your consideration of my compassionate release request, but I feel compelled to assert my innocence nonetheless."
Calling herself a model prisoner, Edwards also told the warden of her deteriorating health, her time in the Army Reserve and the more than 120 educational courses she has taken while incarcerated.
"I have always held the belief that I would be exonerated and set free," she wrote, "and so it was extremely important to me to improve myself during my years in prison."
No physical evidence tied the five defendants to the arson.
Reporting by the late, Pulitzer Prize-winning Star reporter Mike McGraw spotlighted inconsistencies in the case. He interviewed witnesses who said they had been coerced by authorities. A key witness was Edwards' daughter Becky, who has since said she was pressured to lie about overhearing her mother and the others planning a theft at the construction site.
Some of the jurors who voted to convict Edwards have acknowledged they believed in her innocence, McGraw reported. They said they found Edwards guilty because they wrongly believed letting her go would set the other defendants free.
His investigation prompted a U.S. Department of Justice review of the case. In 2011, the justice department said it found information, not previously known to prosecutors, that suggested other people "may have been involved in the arsons."
But officials said it did not exonerate the five defendants.
In March 2017, Bryan Sheppard, the youngest of the five convicted, was released from prison.
He had been granted a new sentencing hearing after the U.S. Supreme Court ruled in 2012 that it is unconstitutional to impose mandatory life sentences on juveniles without first taking into account their individual characteristics and life history.
Sheppard sued the Department of Justice that year seeking answers about the case. That case is still pending.
———
©2020 The Kansas City Star (Kansas City, Mo.)
McClatchy-Tribune News Service