Fla. woman allegedly hit FF with sock stuffed with soup cans
Claudia Jean Cyr, 64, is accused of attacking the firefighter during a fire investigation
---
By Laura French
BELLEVIEW, Fla. — A Florida woman is accused of attacking a firefighter with a sock containing two soup cans during a fire investigation. 
Claudia Jean Cyr, 64, was arrested on Monday and faces one charge of battery on a firefighter, according to Ocala News.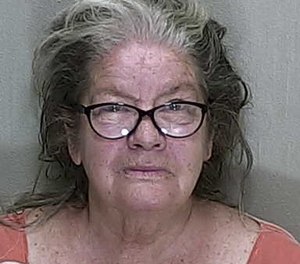 Officials said Cyr approached Marion County Fire Rescue firefighters investigating a fire saying she had information about the fire. When the firefighters asked her to step away from the scene until they were able to speak with her, she allegedly returned shouting obscenities and was told to leave again.  
She allegedly returned a second time with the sock stuffed with soup cans and struck one of the firefighters twice in the shoulder area. 
Authorities say Cyr said she only swung at the firefighter once with the sock and that she did so because she thought the firefighters were going to hurt her. 
According to a Marion County Sheriff's Office report, a deputy located the sock, with the soup cans still inside, in the back of a fire department vehicle.
Cry was held on a $500 bond and is scheduled to appear in court on Sept. 29.