Mo. city firefighters, police at odds over retirement benefits
Firefighters and police are being pitted against each other in a vote to decide whether or not to switch from the city-operated retirement plan to the statewide plan
---
By Lisa Thorsen
St. Louis Post-Dispatch
KIRKWOOD, Mo. — Support your police and give a "secure retirement for all city employees," say signs on Kirkwood lawns urging a "yes" vote to change the city's retirement system.
Support your firefighters and vote "no," say competing signs describing the proposal as unnecessary, permanent and coming at a higher cost.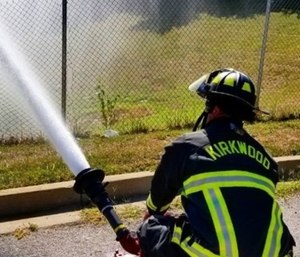 Proposition R -- a measure that would switch the city-operated retirement plan to the statewide Local Area Government Employee Retirement System -- is what's pitting police against firefighters in the April 3 election. In an electoral version of "guns and hoses," Kirkwood voters are being asked to decide which emergency responders will get their support at the ballot box.
Since 1987, Kirkwood has provided a defined-contribution plan for uniformed police officers, firefighters and other city employees that's similar to a 401(k) -- the city contributes an amount based on a percentage of an employee's pay, according to the city.
Firefighters want to keep that plan, but police support a measure to change to a more traditional pension system known as a defined-benefit retirement plan.
"It's really a shame. The police are mad at us and people are confused. It's really ugly," said Firefighter Duane Orr, a fire engineer and union shop steward.
Police Sgt. Sean Conners, president of Kirkwood Police Officers Association union, also described the situation as confusing.
Kirkwood is one of the few St. Louis County cities that uses a defined-contribution plan, the city says, and changing to the more traditional statewide pension system, used by more than 700 public employers, would help attract and retain employees.
"There's no security with the defined-contribution plan," Conners said, saying a defined-contribution plan is too dependent on an uncertain stock market, and that some police officers are working into their 60s in the physically demanding job. He said a Kirkwood sergeant recently left the department to work for a sheriff's office because it offered a pension plan.
Orr disagreed, saying between 75 and 100 firefighters already apply for each opening in Kirkwood's fire department.
"I can't speak for the police, but I do know they're afraid of market downturns and we're not," Orr said. Firefighters don't like that a traditional pension plan wouldn't allow their unused retirement funds to be passed down to their children after their deaths.
Under the new plan being proposed, city employees would contribute 4 percent of their pay toward retirement, and the amount of their retirement income is calculated using a formula based on years of service and salary in their final five years of work. It's a system similar to pensions offered by Webster Groves and Maplewood, according to Kirkwood.
The switch would cost the city about $390,000 more a year, bumping its annual cost for employee retirements to $2.6 million. Funds used to cover that difference will come from sources including money generated from a quarter-cent sales tax hike for fire services approved by voters in 2015, and a half-cent sales tax for public safety that St. Louis County voters green-lighted last year, said Georgia Ragland, Kirkwood's assistant chief administrative officer.
Conners said 77 percent of all city employees, including firefighters, support the change. But among just firefighters, 78 percent oppose it, Orr said.
The starting salary for Kirkwood police and firefighters in the the mid-$50,000s. The city of more than 27,000 has 61 police officers and 53 firefighters, according to Conners and Orr.
Proposition R would not increase taxes, and employees would not be required to move their existing retirement account into the state plan, according to the city.
The Kirkwood Police Officers Association lays out why it supports Proposition R at www.kpoamo.org, and the opposing view from the Kirkwood Firefighters-Citizen Alliance can be found at NoOnPropR.com.
Copyright 2018 St. Louis Post-Dispatch