St. Louis firefighter injured after falling through roof
The fire captain sustained first and second-degree burns on his face and hands and is recovering in the hospital
---
By Denise Hollinshed
St. Louis Post-Dispatch 
ST. LOUIS — St. Louis firefighters had to rescue one of their own after he fell through a roof into flames in an attic Sunday morning.
The fire captain sustained first and second-degree burns on his face and hands. He was recovering at a hospital Sunday, according to Capt. Garon Mosby, spokesman for the St. Louis Fire Department.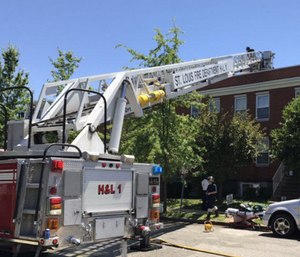 "He's being kept overnight for further observation," Mosby said. "He's talking and in very good spirits."
St. Louis firefighters were first called to the fire in the 2700 block of Bacon Street about 11 a.m. They found a two-story, two-family townhouse structure in the Jeff-Vander-Lou neighborhood ablaze, Mosby said. Workers using a torch on the roof may have started the fire, Mosby said.
Firefighters went inside to fight the fire. A fire captain with 25 years of service was on top of the roof attempting to cut a hole into the roof area for ventilation when he fell through the roof into an attic area that was on fire. Three other firefighters were able to pull him free.
The fire captain was able to walk down a ladder, assisted by other firefighters, to a waiting ambulance.
Mosby said firefighters were able to prevent the fire from spreading to a connected attic. Fourteen people were displaced from the two dwellings.
Copyright 2017 St. Louis Post-Dispatch 
Just finished visiting our injured member; gave me goose bumps hearing, "all I remember... is seeing orange flames all around me!" https://t.co/w5bZDONWiM

— Garon Patrick Mosby (@GaronMosby) June 25, 2017