500 pairs of firefighter boots adorn Fla. capitol for cancer awareness
Florida firefighters placed hundreds of firefighter boots on the steps of the capitol building, each one representing a state firefighter who dealt with or is dealing with occupational cancer
---
By FireRescue1 Staff
TALLAHASSEE, Fla. — Firefighters placed 500 pairs of work boots on the steps of the capitol building on Thursday to alert state leaders of the dangers of cancer in their profession.
WFLA reported that each set of boots represented a Florida firefighter that is battling or lost a battle with cancer due to hazards in the fire industry.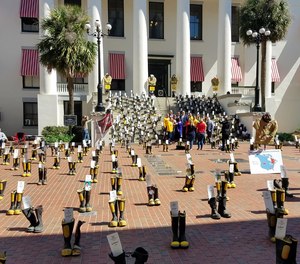 Organizers of the display hope to elevate the importance of a piece of legislation that would expand health and workers comp insurance coverage. Miami Dade Firefighter Colleen Buzzo said she didn't get help for the four months she was out of work.
"There are some firefighters that don't even have coverage from their insurance, and it's very important because two out of three firefighters get cancer," she said. "So we're here to fight for that coverage for us because we have a 17 percent higher rate of getting cancer than the average person in the public."
500 boots will be placed on the capitol steps tomorrow—- each representing a #Florida firefighter that has died from or is battling cancer.

"We want them to understand that this Is not just a statistic, these are not just numbers." pic.twitter.com/pr2ou7ydE9

— Amber Krycka (@AmberANjax) March 7, 2019
Firefighters and their families from around the state create a display at the Capitol of 500 pairs of boots in honor of firefighters who lost their battle or are battling with cancer caused from smoke inhalation and carcinogens. https://t.co/HrIebVW1Da

— Florida Today (@Florida_Today) March 7, 2019