Idaho first responder, veteran hopes clinical trial will help him speak again
William Paine contracted throat cancer after on-the-job asbestos exposure and has communicated through a prosthesis for over 15 years
---
By News Staff
GARDEN VALLEY, Idaho — A firefighter-paramedic and veteran who contracted throat cancer as a result of asbestos exposure is hoping a clinical trial will help him speak again.
The Idaho Press reported that William Paine's voice box was removed in 2002 due to exposure to the 96,000 pounds of asbestos onboard the Naval Destroyer Escort, where Paine worked as a firefighter.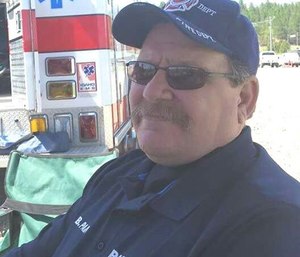 "'Just keep the bandanna wet,' they said. 'This stuff won't hurt you,'" Paine recalled.
Paine, who has worked as a first responder for nearly 50 years, has been cancer free since 2007, but has communicated for the past 15 years through a prosthesis that must be changed every three months.
However, he's hoping to speak on his own again by undergoing a clinical trial at the Mayo Clinic in Arizona.
The trial is attempting to give patients who have had their larynx removed an opportunity to heal by giving them an organ transplant or rebuilding the larynx with stem cells.
However, the U.S. Department of Veteran Affairs has a strict policy against funding clinical trials, and Paine was denied coverage for the experimental procedure, which costs around $85,000.
"They're the ones who took the voice box out, you would think they'd help give me my voice back," Paine said.
Laryngeal surgeon David Lott said the procedure is the first of its kind.
"The biggest benefit of this larynx transplant is that it is life-saving for people," he said. "If you don't have your voice, you lose your identity in a lot of ways, you can't communicate and express your personality."
Lott added the transplant operation has a variety of unknown factors, including the possibility that Paine's body could reject the transplant.
"We had a long discussion regarding the risks, benefits and alternatives to laryngeal transplantation," Lott wrote in the clinical notes. "Specifically, we talked about the fact that a laryngeal transplantation has never previously been done on a laryngectomy patient. There is concern for the status of both the motor and sensory nerves in this situation."
Still, Paine is confident.
"They're doctors, they're going to tell me if it's dangerous," Paine said. "I said, 'I don't care, give me my voice back.' The surgeons were very positive, saying that I may be the first or second patient. They want me in, very much so."
Despite Paine's long career, he can still name off the top of his head all 42 of his certifications and instructor qualifications, which include arson investigation, hazardous materials specialist, rope rescue, critical care paramedic, advanced pre-hospital trauma life support and crisis intervention.
He said 75 percent of his career has been spent as a volunteer at the Donnelly Fire District, but his laryngectomy prevents him from getting close to the flames like he used to since he is not able to wear a breathing apparatus.
He added that his distorted voice also makes it hard for patients to understand him as a paramedic.
"I get frustrated a lot because people can't understand me," Paine said. "I am very limited."
Paine said the treatment would "have huge impacts."
"The surgery will give me control over my voice," he said.
A GoFundMe has been launched to help raise funds for Paine. Click here to donate.