Ill. village and family of firefighter who died of cancer at odds over pension benefits
An appellate court will decide whether full line-of-duty death pension benefits will be awarded to the family of Firefighter Kevin Hauber
---
Karen Ann Cullotta
Pioneer Press Newspapers, Suburban Chicago, Ill.
BUFFALO GROVE, Ill. — The financial future of the family of a 51-year-old Buffalo Grove firefighter who died of colon cancer will soon be decided by a trio of appellate court judges who on Tuesday began considering a decision to award his widow and their four children her late husband's full pension benefits.
The case involves the village of Buffalo Grove's appeal to the Second District Appellate Court to overturn a 100% line of duty death pension benefit award to the family of late firefighter Kevin Hauber. The move to award full pension benefits was approved by the village's Firefighters' Pension Board in 2018 and upheld earlier this year by a Lake County Circuit Court judge.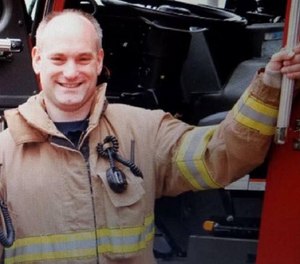 On Tuesday, the appellate court justices heard impassioned pleas from several attorneys, including the village's attorney, William Nichols. He acknowledged that the Hauber case concerns "a sad and unfortunate situation."
"This is a highly sympathetic case, and it's very difficult ... but you still have to prove something more than the inherent risk," Nichols said.
Village officials said earlier this year that they appealed the lower court's ruling to award Kevin Hauber's widow, Kim Hauber, the 100% line of duty death pension benefit award due to concerns that it could set what they described as, "a dangerous and costly legal precedent."
Nichols said while Kevin Hauber provided 23 years of "honorable service" to the village, including some 127 calls that involved a fire, he said the burden of proof to receive the 100% line of duty benefit was not met under the state's statutory requirements.
"There is no direct evidence of whether he was actually exposed to carcinogens and toxic smoke" that caused him to develop colon cancer, Nichols said.
But Thomas Duda, one of the attorneys representing the Hauber family, disagreed, saying that the village's job description for firefighters states that part of the job duties involve situations where they will be exposed to various toxic substances, including carcinogenic materials.
"(The village) knows there are chemicals, and I think they got it right (in the job description)," Duda said.
The appellate court is not likely to make a decision on the case until early 2020, officials said.
But Appellate Justice Joseph Birkett on Tuesday said the lower court before making a ruling reviewed Hauber's medical history, which found no history of colon cancer in his family, which was affirmed by genetic testing.
"He was 51, and otherwise in good health, and was not a drinker, and there's no genetic predisposition found, and he was exposed to fires. The village's own job description describes exposure to toxic substances," Birkett said. "Firefighters are exposed to cancerous substances, and in this case, there's proof in the record that he was exposed to smoke and chemicals."
Still, Nichols, the attorney for the village, told the appellate justices to consider that Hauber never filed a formal complaint with the department regarding concerns about any incidents in which he may have been exposed to toxic chemicals.
"He never asserted this in a complaint, and there's no evidence he claimed any particular exposure," Nichols said, adding: "An occupational disability pension should stand, not a line of duty (pension)."
Village officials have said that Hauber's widow, Kim Hauber, 41, and the mother of the couple's 11-year-old triplet daughters, and 14-year-old daughter, is entitled to a surviving spouse benefit, which is equal to 75% of her late husband's final salary of $101,549, or $76,161 annually.
The Buffalo Grove Firefighters Pension Board awarded the additional pension benefit of about $25,000 annually to the Hauber family, a ruling based on the pension board's conclusion that Kevin Hauber's service as a firefighter caused his colon cancer, of which he died in January 2018.
Village officials have said previously that they appealed the lower court judge's ruling to uphold the 100% pension benefit to the Hauber family, as it would cost the village an estimated additional $1.7 million due to the line of duty death award.
"Pension contributions are made through a combination of property taxes and firefighter salary contributions," village officials said in a statement earlier this year, adding that, "firefighter contributions are fixed by state law; therefore, any additional pension liability will be paid for by property tax payers in the village of Buffalo Grove."
Kim Hauber, who was accompanied by three of her four children in court on Tuesday, said the ongoing court battles have taken an emotional and financial toll on the entire family.
"It's been hard, and I'll be happy when it's all over," Hauber said. "But even if we win, we'll still be on our own."
———
©2019 Pioneer Press Newspapers (Suburban Chicago, Ill.)
McClatchy-Tribune News Service