New app lets firefighters track data to protect against occupational cancer
The NFORS Exposure Tracker can log work-related exposures and the data will help determine researchers how firefighter occupational cancer is contracted
---
By FireRescue1 Staff
WASHINGTON, D.C. — A new smartphone app is now available for firefighters to track their exposure to harmful carcinogens while on the job.
The National Fire Operations Reporting System (NFORS) Exposure Tracker app is available for firefighters to download as a way to log work-related exposures, the data from which will help researchers better understand how occupational cancers and other hazards are contracted, according to a press release from the International Association of Fire Fighters (IAFF).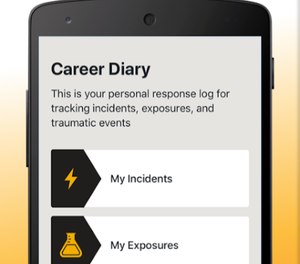 The data can be accessed anytime, including after the firefighter retires.
"This valuable tool will help provide firefighters with the documentation they need to show on-the-job exposure to a toxic soup of carcinogens and ensure they have the resources to get healthy and return to work," IAFF General Pres. Harold A. Schaitberger said.
The app is funded by the U.S. Federal Emergency Management Agency's (FEMA) Assistance to Firefighters Grant (AFG) program and the Ramsey Social Justice Foundation. It was developed through a partnership with the IAFF, the International Association of Fire Chiefs (IAFC), Metropolitan Fire Chiefs Association, International Public Safety Data Institute (IPSDI) and other fire service experts.
Firefighters can also register to be part of the National Firefighter Cancer Registry and other major fire fighting cancer studies by opting-in to share exposure data with researchers in the app. The Firefighter Cancer Registry will provide researchers with a centralized database to acquire data to determine how firefighters are contracting cancer.
The NFORS Exposure Tracker app is available on the App Store and the Google Play store, and encrypts all data provided.