The more I learn about exposure to toxins, the more scared I become
An eye-opening book leads to uneasy reflection about past behavior on the fireground
---
Editor's Note: The FireRescue1 Academy features "Firefighter Cancer: Prevention and Health," exploring the common cancer-causing agents that firefighters face on the job. Learn the importance of wearing proper PPE and using decontamination techniques to increase health and quality of life. Visit the FireRescue1 Academy to learn more and to schedule an online demo.
In a few years, I think we in the fire service are going to look back at this time in our careers as a watershed year for what we know about the link between firefighter exposure to cancer-causing smoke and toxins. The last year or so has been an enlightening time for me, as my editors at FireRescue1.com tasked me with writing articles about the research being done, the equipment being designed and the work practices being developed to reduce those exposures. And I must tell you, I'm scared.
I'm a 61-year-old male who spent 30-plus years in the fire service, 26 of those years serving with the women and men of the Chesterfield (Virginia) Fire and EMS Department. I retired in good health and have pretty much continued to enjoy good health since my retirement in December 2007.
So, why am I scared?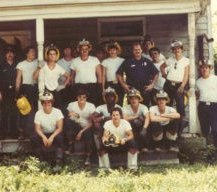 Because we know that it can take years for cancer to develop. Or it can develop overnight. It can be slow-developing or it can strike like a blitzing linebacker. The uncertainty alone can really work on your mind, no?
An eye-opening book about toxic exposures
But what's really gotten me doing a great deal of "historical review" was reading the book "Exposed: Carcinogenic Exposures on the Fireground and 11 Work Practices to Minimize the Risk" by Dawn Bolstad-Johnson, MPH, CHH, CSP, FAIHA. (With that many letters after your name, you must be very smart, and Bolstad-Johnson is for sure.)
Another thing that I'm sure of is that she knows of what she speaks (and writes). See, Bolstad-Johnson is an industrial hygienist by education, training and experience. Industrial hygienists are trained to look for exposures that may cause disease or injury. But she's also "one of us" in that she spent 19 years working with the Phoenix Fire Department in their Safety Section. It was there – with the support of the fire chief at the time, the late Alan Brunacini, and other members of the department – that she completed the research requirement for her master's degree in public health.
That effort, "Characterization of Firefighter Exposures During Fire Overhaul," was published in the American Industrial Hygiene Journal in 2000 (Yes, you read that right – the year 2000!). And it was the first published work on this topic of firefighters and their exposure to chemicals, chemical compounds, and carcinogens during fire overhaul operations.
Note: I strongly encourage everyone in the fire service to read this book. If you're like me, you won't be able to put it down until you're finished. Bolstad-Johnson has also dedicated that 25% of the proceeds from the sale of the book go to firefighter cancer charities to promote further research and support for firefighters and their families dealing with cancer.
My own career of exposure
My own career spanned the years 1982 to 2007, and by 1989, I had promoted to the rank of captain and took my first of what would be three staff assignments I filled during my career. (Altogether I spent 9-plus years in staff assignments.)
So, on the surface, one would say that my history of exposure to fireground contaminants was probably limited to those first seven years when I was a firefighter/medic and getting my first couple of promotions. I was assigned to engine companies, but to be honest with you, we didn't have all that many working fires.
But then there were my days off. I was fortunate to become a Virginia Department of Fire Programs certified instructor early in my career. If there was a training session involving live fire training, I was signed up to fill one of those slots ASAP. And there were plenty of opportunities.
See if any of this sounds familiar: You make multiple entries into the burn building with groups of students during a 6–8 hour day (sometimes longer). When you're not doing that, you're outside getting the next group of students ready to go, and there's smoke everywhere, but nobody's paying attention. Or you're hauling bales of straw and wooden pallets to the door so that the inside instructors can build new fires for students to extinguish …and there's smoke everywhere, but nobody's paying attention.
Depending upon the weather, you're drinking water every chance you get without washing your hands or face. When it comes time for lunch, you go wash your hands, but you come back and sit down to eat with your bunker pants and boots on, the same ones you've been wearing all morning going in and out of the burn building and doing other work.
And when the active training is completed, you supervise groups of students as they remove unburned remnants of straw and wood pallets using brooms and pitchforks and wheelbarrows and take the debris to the dumpster. And then they hose down the floor to make it as clean as possible for the next training day. And nobody's wearing full PPE (unless it's cold outside), and they're certainly not wearing SCBA as they conduct overhaul of the training building.
Now do you see why I'm scared?