The National Firefighter Registry: An update on the plan to track firefighter cancer
The CDC and NIOSH are actively working to roll out the web portal and test the enrollment process
---
I had the opportunity recently to attend some online sessions for the 2022 National Firefighter Cancer Symposium, presented by the Sylvester Comprehensive Cancer Center at the University of Miami.
Over the two-day event, there were many outstanding presentations by equally outstanding presenters from both the academic world (researchers and scientists) and the fire service world. Those presentations focused primarily on communicating what's being done to move past the occupational cancer awareness phase, particularly as it relates to firefighters' increased risk of developing cancer – the part we know – and focus more on the parts we don't know nearly enough about, namely the what, why and how that increased risk happens.
There's so much we could explore from the event, but I'd like to highlight one session that addressed the much-anticipated National Firefighter Registry (NFR), presented by Kenny Fent, PhD, CIH, a research industrial hygienist at NIOSH and the team leader for the NFR project.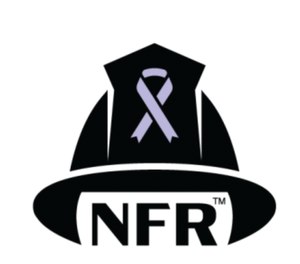 The Firefighter Cancer Registry Act of 2018
On July 7, 2018, the Firefighter Cancer Registry Act of 2018 became law. The Act directed the Centers for Disease Control and Prevention (CDC) and the National Institute for Occupational Safety and Health (NIOSH) to "develop and maintain … a voluntary registry of firefighters to collect relevant health and occupational information … for purposes of determining cancer incidence." The CDC and NIOSH are still working to fulfill those requirements, but the Symposium session offered a good status report about when we can expect the NFR to become completely functional.
The mission for CDC/NIOSH is to generate detailed knowledge about cancer in the fire service through a voluntary registry that reflects our nation's diverse firefighters. Coupled with that mission statement is a vision statement that reads: "To equip the fire service and public health communities with the knowledge they need to reduce the cancer for firefighters."
To carry that out, the NFR has four key directives:
Collect self-reported information from firefighters on workplace and personal characteristics through an online portal.
Obtain fire incident records from fire departments or agencies to track trends and patterns of exposure for firefighters.
Link with health information databases, including population-based cancer registries and the National Death Index, to detect cancers and deaths of firefighters.
Make de-identified data available for external researchers (e.g., governmental agencies and institutions of higher education) working on research studies relevant to the understanding of firefighters and their increased risk of developing cancers when compared to the public.
Who will be included in the NFR?
The NFR will be open to all firefighters, not just those who develop cancer, and participation will be voluntary. One of the goals of the NFR is to gather more information on the exposures for women, minorities and volunteer firefighters – groups that, until now, have been under-reported.
Another goal is to gather information on fire service sub-specialties (i.e., firefighters who are not actively involved in fire suppression) who are exposed to the same chemicals, chemical compounds, and carcinogens as active fire suppression firefighters. This includes live-fire instructors, wildland firefighters and fire investigators.
A key benchmark for the NFR is to ultimately enroll more than 200,000 firefighters and sub-specialty individuals.
NFR enrollment design
Enrollment routes for those personnel registering with the NFR will include two options:
Open cohort (non-probability sample): "Non-probability sampling is defined as a sampling technique in which the researcher selects samples based on the subjective judgment of the researcher rather than random selection." This will include current, former and retired firefighters, and while beneficial for obtaining a diverse sample, it may not be generalized.
Targeted cohort (prospective cohort): This sampling is designed to recruit active firefighters from selected fire departments/state agency rosters. This prospective cohort would focus on the enrollment of women, minorities and volunteer firefighters to ensure a more exact picture of the increased cancer risk to firefighters resulting from any research conducted using data from the NFR.
The Targeted cohort will also include access to fire department records. This access is necessary to obtain information on fire incident types (e.g., structural, wildland or WUI fires), found chemical hazards for a fire incident, and those operations that firefighters were engaged in on the fire incident.
The NFR enrollment system
The web portal that firefighters will use to enroll in the NFR is still under development. Dr. Fent noted that the CDC and NIOSH recognize that, "it's critical that we get this right the first time." In addition, data security for information entered into the system is a top priority, and the CDC and NIOSH must follow several new federal cyber-security requirements.
As the NFR continues to be developed, it's important for firefighters to know and understand that their enrollment will involve:
Their informed consent to supply information;
Completion of a User Profile; and
Completion of an Enrollment Questionnaire that will ask for the enrollee's demographic information (e.g., age and gender), along with the enrollee's work and exposure history, workplace practices, lifestyle, and health history.
The portal is also being designed to incorporate supplemental firefighter exposure data from fire department records and exposure tracking apps from wireless devices (e.g., the National Fire Operations Reporting System).
Health outcome linkages
Another important aspect of the NFR will be the ability to link the exposure data for participants to state/federal databases using individual identifiers (e.g., last four digits of their social security number) periodically over time (See Figure 1 below). Examples of those links would connect to organizations like:
Population-based cancer registries in all states and territories because firefighters protect all parts of the country;
The North American Association of Central Cancer Registries (NAACCR) Virtual Pooled Registry (VPR-CLS) that's used to determine cancer incidence; and
The National Death Index, a national database that collects data for deaths and causes of deaths that researchers can use to determine cancer mortality.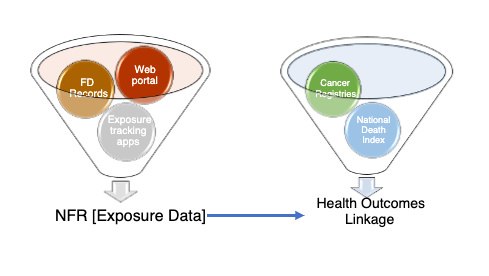 As for data sharing and collaboration, the Firefighter Cancer Registry Act stipulates that the CDC and NIOSH must protect firefighters' privacy using Assurance of Confidentiality (AoC), the highest level of cyber protection. The Act also requires that information collected in the NFR is publicly available using deidentified records and that there is a secure mechanism for sharing data with other researchers (e.g., Research Data Center).
Status update and next steps
The NFR will be the first national registry that will help to improve our understanding of the cancer risks for all firefighters and its success depends on the active participation of firefighters once the NFR become operational (See Figure 2 below).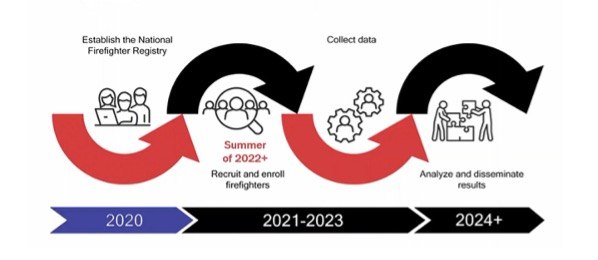 In the meantime, the CDC and NIOSH will be working with fire service organizations to demo and evaluate the NFR enrollment system, register firefighters at fire service conferences, connect with fire departments throughout the U.S., and continue to supply updates for the launch of the NFR.
CDC and NIOSH will begin assessing the registry with firefighters in the spring of 2022, and they expect opening enrollment to all U.S. fire service members (active and retired) in the summer/fall of 2022.
You can view all the presentations from the 2022 National Firefighter Cancer Symposium on the Sylvester Comprehensive Cancer Center channel on YouTube.
Stay up to date
To stay updated on their progress, firefighters are encouraged to subscribe now to the NFR Quarterly Newsletter.
For more information and to contact the CDC and NIOSH for how your fire department can aid in the implementation of the NFR, here is the necessary contact information: