Va. FD begins screening hundreds of firefighters to catch cancer early
The Virginia Beach Fire Department is testing the blood of firefighters, and some retirees, to check for over 50 types of work-related cancer
---
By Eliza Noe
The Virginian-Pilot
VIRGINIA BEACH, Va. — Water, and lots of it, is one of a firefighter's most powerful weapons. But a small vial of blood can also go a long way in saving lives among their ranks.
Virginia Beach is screening hundreds of firefighters this week for more than 50 types of cancer — which is the leading cause of line-of-duty deaths in departments nationwide.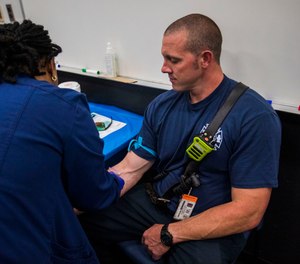 As part of a long-term response to the 2012 crash of a Navy fighter jet into an apartment complex, department and city leadership have invested in testing all current firefighters ages 21 and older, along with retirees who responded to the Good Friday crash.
Norman Williams, battalion chief for health and wellness at the Virginia Beach Fire Department, said he initially saw Chesapeake firefighters receive cancer screening, so he began looking into options for VBFD. It took a few months to get it organized, he said, but once it was announced that it would be offered to the firefighters, he received positive feedback. Firefighters were given time to research the tests and options, and a Q&A session with test operators was held so anyone interested would be fully informed of the process.
Williams said more than 200 people were tested Monday at the training center, and he hopes by the end of testing on Thursday that all who are eligible, upwards of 600, can get screened. Anyone who could not make it this week will have the opportunity for a make-up day later.
"It's a big deal," Williams told The Pilot on Tuesday. "And I think other people are looking at what we're doing — not just us, but Chesapeake also. We've expanded on it a little bit to try and capture some of the retirees. Because of the events that we've had here, we expanded into some of the exposure to retirees that respond to the crash."
It's been called the Good Friday Miracle. Around 12:05 p.m. on April 6, 2012, a Navy F/A-18D Hornet from Oceana Naval Air Station plunged into an apartment complex for older adults shortly after takeoff, exploding into a fireball. It left a crater in the housing development, according to Pilot archives.
Roofs and floors crashed down, leaving gaping holes in five buildings. Witnesses described it as an inferno. But remarkably, no one died in the crash.
For hours afterward, the smell of jet fuel hung in the air. Now, some members of the department who worked the scene that day have cancer. Last month, Capt. Matt "Chevy" Chiaverotti died after being diagnosed with anaplastic thyroid cancer, a metastatic carcinoma. Chiaverotti served the day of the crash, and his diagnosis — in part — led to the cancer testing being done for the Virginia Beach Fire Department.
About 10 feet away from where Williams stood Tuesday, the tail hook of the jet is preserved and on display. Just across the hall, a Wall of Honor designates firefighters at the department who have died in the line of duty. Williams said even if the cancer screenings keep just one more firefighter off of the Wall of Honor, they will have been a success.
[RELATED: NIOSH launches National Firefighter Registry to study cancer risk in the fire service]
For this week's screenings, the department will use the Galleri, a new technology that screens for a signal shared by more than 50 types of cancer with a blood draw. Williams said most appointments have taken about 15-20 minutes, allowing firefighters to stop by during shifts with essentially no disruption to their day.
According to the Firefighter Cancer Support Network, firefighters have a 9% higher risk of diagnosis and a 14% higher risk of death from cancer compared with the general U.S. population due to occupational hazards and exposure. Cancer caused 66% of career firefighter line-of-duty deaths from 2002 to 2019, according to data from the International Association of Fire Fighters, and the cancers mostly responsible for this higher risk were respiratory (lung or mesothelioma), gastrointestinal (oral cavity, esophageal or large intestine) and kidney.
Inside the testing area Tuesday, one of Chiaverotti's friends, Capt. Zeb Moseley said getting the Galleri test done was an easy choice. Moseley, who has served with the department for about 15 years, also worked the day of the crash and said he wants to catch any risk of cancer as early as possible.
"It's kind of one of those ones things where it's better to catch it early than not know, right?" Moseley said. "Hopefully for my sake and my family's sake, we can catch anything early and nip in the bud before it's too late. They're trying to get our whole department through testing and then some of the retirees that were on the jet crash incident. I was on that, as well, so this is a kind of peace of mind, too."
©2023 The Virginian-Pilot.
Visit pilotonline.com.
Distributed by Tribune Content Agency, LLC.
McClatchy-Tribune News Service