When everything old is new again: Cancer and behavioral health
Fire officers must be aware and vigilant of both issues as we provide professional and caring leadership in our departments
---
Over the past few months, we've been reminded to watch out for one another regarding the signs of mental fatigue, stress or changes in behavior due the strain of dealing with COVID-19.
My good friend and FireRescue1 Editorial Board Member, Chief Billy Goldfeder, has reported on FirefighterCloseCalls.com the toll, both mental and physical, from our brothers and sisters who have died from this virus, and also of those who have died by suicide. The most likely reason for these suicides may be an overwhelming depression from seeing the human toll this virus has taken on the many patients they've treated and tried to comfort.
In light of this, groups such as the International Association of Fire Chiefs (IAFC), International Association of Fire Fighters (IAFF), National Fallen Firefighters Foundation (NFFF) and others have held webinars and issued white papers regarding the behavioral health of firefighters, paramedics and EMTs on the front lines of this pandemic. This heightened awareness is essential in protecting the most valuable asset in the fire service – our people.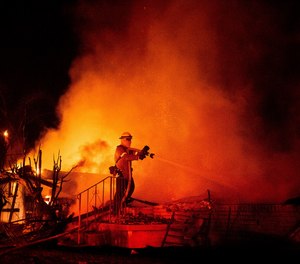 So too our cancer awareness has been heightened in the past few years from the research and resulting best practices on how we can best avoid this dreaded disease. Washer/extractors, on-scene gross decontamination, clean cabs and new types of station apparel are all new to most of us in the past decade.
But both the scourge of cancer and behavioral health issues have been around for generations of firefighters before us.
In my family, I am the fifth generation in the fire service – my sons have or are now serving as the sixth generation. But as far back as the second and third generation of our family of firefighters, there has been both suicide and cancer.
Uncle John's mental health struggle
My Great Uncle John, known to everyone in the fire department as "Buck," became a Cincinnati firefighter around 1916, the year the department became all-motorized. In those days, firefighters, or pipe-men as they were called, had to live in the same neighborhood as the firehouse where they were assigned.
John and his wife lived in a section of town not far from the University of Cincinnati and served at the station housing Engine 19 and Ladder 4. His schedule in the beginning was literally 24 hours a day, but since he lived nearby, he usually had some time off during the day to have a meal at home. Some of the firefighter homes were equipped with a bell system that rang when the house bells sounded at their station. So even at home for a meal, they remained on duty.
The three-platoon system and the reduction of work hours was a gradual process not fully implemented for decades after he started in the fire service.
What I remember most about my great uncle was that he gave me my first ride on a fire engine. My dad and I were watching a parade that commemorated both the sesquicentennial for the City of Cincinnati, and also the 100th anniversary of Cincinnati Fire Department. For those fire history buffs, that would have been 1953, and I was a preschooler.
Proudly coming down Court Street was a hand pumper pulled by six firefighters, followed by a steam pumper drawn by a team of three horses, and then a 1917 Ahrens-Fox (old Engine 13), each representing a different era of the fire service. That same Ahrens-Fox held the record for continually pumping at a fire for seven days and seven hours (175 straight hours) at an industrial fire along the Millcreek during the 1937 flood.
My uncle, now Captain John, was riding as the officer on the Fox, and when the parade stopped at our intersection, he yelled down to my dad and motioned for me to climb aboard between my uncle and the driver. I rode the rest of the parade ringing the bell with a huge grin.
I was hooked on the fire service.
My dad, my brother Tom and I visited the 19's house on several occasions, and I remember the respect shown my uncle by his firefighters, and the fact that being the senior captain in the 5th District, he "rode up" frequently when the district chief was off.
Fast-forward a few more years, Uncle John reached his mandatory retirement age. A huge party was planned in his honor.
I remember on the eve of that party, my mother entered the room with tears in her eyes, telling me that Uncle John had died. Stunned, it was only later that I realized he had died by suicide rather than face a life without his beloved fire department.
Uncle Frank's cancer battle
Cancer is a word that strikes fear into most of us. At one time, a diagnosis of cancer was akin to a death sentence. In the last two decades, however, cancer research and newer treatments have given many a new hope and a new life. Such was not the case for my other uncle, Frank, who was a fire lieutenant assigned to Ladder 16 at Engine 31's firehouse on the eastern side of Cincinnati.
While I was a teenager, Uncle Frank was one of my first fire service mentors. He and my Aunt Charlotte, who was my mother's sister, lived in the same neighborhood as our family. Frank and Charlotte had three daughters, and as his nephew, I became the closest person to the son they didn't have.
Uncle Frank and I would frequently talk about the fire service, and I'd occasionally attend a fire where I'd see him in action. Later, he and I would talk about the fire and how he did things like read the smoke for color, pressure and heat, long before such observations were confirmed with research. It was also a time when firefighters had "leather lungs," at best using filter masks that provided little or no respiratory protection.
It was Uncle Frank who taught me what it took to be a good fire officer. He stressed how to treat every firefighter fairly, while practicing what we now call "servant leadership." In turn, these firefighters placed their trust in him and would go anywhere and do anything he asked of them on the fire scene.
Unfortunately, cancer has never played fair.
One night he called me on the telephone and asked me to come to his house. With great difficulty, he spoke to me again about the fire service and what would be expected of me if I joined. As he finished, he asked me to call the fire dispatcher and request the department's ambulance to come take him to the hospital. I followed, driving my aunt to hospital and then notified each of their daughters along with my parents, and then I waited. My uncle passed away that night – about two years after his fire service retirement.
Officers: Remain vigilant in the face of these threats
My family's experience is not an exception, and over the years I've seen both behavioral health issues and cancer take their toll on a dozen or more of my coworkers.
Fast forward to today. Both behavioral health in all its forms and cancer prevention are in the forefront of the care we take with our firefighters. Much like cancer, research and counseling on behavioral health has removed much of the stigma associated with the topic.
Most departments at minimum have some form of an Employee Assistance Program (EAP) that can not only help a firefighter with issues like depression, stress, chronic fatigue, guilt or domestic issues, but also with drug or alcohol addiction.
I applaud the efforts of all the fire service organizations that have united to shine a light on these two health issues, and to remind all of us as fire officers that we need to be aware and vigilant of both as we provide professional and caring leadership in our departments.
For my family, the sorrow and grief is long over, and the memory of my uncles may soon fade, but their legacy, and that of thousands of other firefighters and their families, is in the present where we can make a difference with our awareness of behavioral issues and the preventative measures against cancer.
If you remain indifferent to these efforts in caring for your firefighters, I can only imagine what each of my uncles would say, "You need to protect your firefighters, after all, you're their officer."
Stay safe!