Firefighter-EMT sues employer of workers he tried to save
Leonardo Moreno's lawsuit said DN Higgins and McKenna were negligent for allowing the workers to enter a manhole without checking for toxic gases
---
By FireRescue1 Staff
KEY LARGO, Fla. —A firefighter-EMT who almost died trying to save workers from a manhole is suing the company they worked for.
Miami Herald reported that Key Largo Fire Department firefighter-EMT Leonardo Moreno descended 15 feet into a manhole to save what he thought was one man drowning. When he reached the bottom, he instead found the bodies of Elway Gray, Louis O'Keefe and Robert Wilson.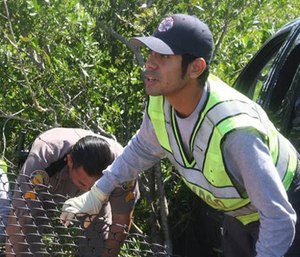 It was later found that the men died within five minutes of entering the manhole due to a fatal combination of hydrogen sulfide and carbon monoxide. Moreno's heart stopped for five minutes after descending into the manhole, and he had to be resuscitated with a defibrillator.
"His crew desperately attempted to revive him with chest compressions. [Moreno's] sternum and L1 vertebra were both fractured in the process," Moreno's lawyer, Thomas Scolaro, said.
Moreno is now suing the workers' employer, DN Higgins, and its subcontractor, McKenna, for negligence, claiming that they should have checked the manhole for toxic gases before allowing the workers to enter. The lawsuit also states that the two companies were negligent in not training the workers for situations involving confined spaces.
The lawsuit also claims that the responding firefighters were "at all times led to believe that this incident involved the drowning of a single individual as it was reported to the Key Largo Fire Department." Scolaro said Moreno "was never informed or warned at any time by any individual or entity that noxious or dangerous gases were involved or present."