The Secret List: Anatomy of a firefighter mayday and local reality
Consider your department's staffing, resources and protocols when implementing firefighter training and policy
---
The following is reprinted with permission from FirefighterCloseCalls.com, home of The Secret List. The video was provided by the Dallas Fire-Rescue Department.
By Chief Billy Goldfeder
All, once again, another opportunity shared with us so you/we/us can all learn.
This is an anatomy of a mayday that occurred Nov. 27, 2018, to Dallas Fire-Rescue Department on an apartment fire. It includes interviews and fireground footage with key players explaining their perspective.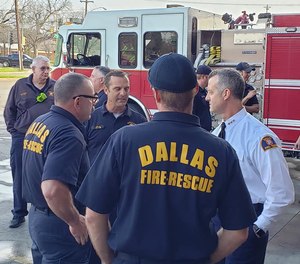 By the way, remember ... this is Dallas, not necessarily your/mine or our department.
So what does that mean?
It means that when looking at these case studies and reviews, some of it will apply to us all and some aspects of any incident (and any recommendations) are applicable based upon the specific department's resources.
For example, if your department runs with two or three firefighters on an apparatus, and only one other engine responding on a dwelling fire – then make sure you consider that when comparing events such as this to YOUR own unique first alarm assignment, staffing, resources, etc., etc.
Or, if your department runs with 10-15 firefighters on a high-rise fire – then you must consider that factor compared to, say, a report or story about FDNY who can muster 100 firefighters in just a few minutes.
Check out this excellent video:
While there are loads for each of us to learn from this incident (thanks to Dallas Fire-Rescue for sharing),
it's important when considering an incident, policies, training, etc., that our thinking (in comparison) must match our local department's polices, alarm assignments, resources ... in other words: YOUR local reality. 
Take care. Be careful. Pass it on.
— Billy G
About the author
Chief Billy Goldfeder, EFO, a firefighter since 1973, serves as deputy fire chief of the Loveland-Symmes (Ohio) Fire Department. LSFD is an ISO Class 2, full service ALS department providing a full range of traditional and non-traditional emergency and community services.
He is the former chair of the IAFC VCOS and is a member of the Board of Directors of: The IAFC, The September 11th Families Association, The National Fallen Firefighters Foundation; and he provides expert review assistance to the CDC NIOSH Fire Fighter Fatality Investigation and Prevention Program.
Goldfeder is the recipient of numerous operational and administrative awards, appointments and recognitions; has served on several NFPA and IAFC committees; and has authored numerous articles and presented several sessions at industry events. Chief Goldfeder co-hosts the website: www.FireFighterCloseCalls.com.