Fire dept. uses grant to purchase fire alarms for deaf residents
The Safe Awake alarms emit three beeps, followed by a pulsating bright strobe light while a piece of plastic placed under the resident's bed vibrates
---
By FireRescue1 Staff
CAPE CORAL, Fla. — A fire department used a FEMA grant to purchase smoke alarms that alert deaf or hard of hearing community members of a fire.
News-Press reported that the Cape Coral Fire Department services spent $198,000 on Safe Awake alarm systems that will be installed into the homes of the 5,000 deaf or hard of hearing residents in the community.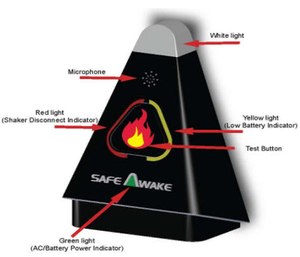 Safe Awake is activated by the T3 smoke detector that beeps three times, pauses and triggers a pulsating strobe light. A piece of plastic placed under the mattress also vibrates to wake the resident and alert them of the fire.
"If I install one unit, and it saves one person's life, it was worth every penny," Fire Marshal C. David Raborn said. "The more I dug into it, the more I felt this was a portion of our population that was being overlooked."
"It helps the deaf and hard of hearing community," American Sign Language translator Mark McDonald said. "If you can't hear the alarm, this will wake you up."
Nine applications have been received by the department for the free installations since they announced the Safe Awake alarms, and Raborn said he's considering expanding the program to the whole county.