Engineered for safety: The critical role of engineering in CRR
So much fire-focused work relies on engineering to complete tasks safely and efficiently – this is CRR in action
---
By Wendy Giannini-King
Consider the risky tasks you and your fellow firefighters face daily. When safely completed, these tasks are most often "brought to you by the letter E" – E as in Engineering. (For those too young to remember this reference, look up the educational TV show "Sesame Street" and its playful use of the alphabet.)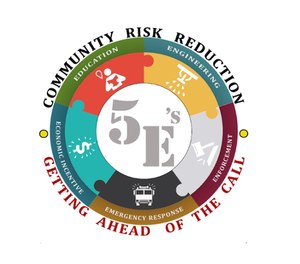 Engineering is one of the "5 Es" of community risk reduction (CRR), always working alongside those other Es:
Emergency Response
Education
Enforcement
Economic Incentive
Chances are if you climb, pull, lift, extricate, support and sometimes even breathe, you are using engineering. In fact, much of a firefighter's day relies on engineering to complete tasks safely and efficiently. Believe it or not, this is CRR in action.
Although engineering remains in a constant state of improvement, it has been put to use to reduce risk for firefighters and the public for hundreds of years. All that said, if your department is still pigeon-holing CRR as public education, that's just not right.
Let's use an example of one attempt to make CRR work following key steps:
Identify risks: Firefighters cannot breathe in heavy smoke for very long.
Prioritize risks: High priority, as death can occur.
Develop strategies and tactics to mitigate risks: Firefighters will grow long beards, dip beards in water, clinch wet whiskers in teeth while breathing only through the mouth.
Prepare a plan: The idea is drafted into a standard operating guideline (SOG).
Implement the CRR plan: Firefighters use wet beard to filter smoke.
Continuously monitor, evaluate and monitor the plan: Wet beard = FAIL. Plan modification necessary. Go back to strategies and tactics and try again.
If we use these steps when thinking about the engineering marvel that is SCBA, engineering as CRR comes clearly into focus, especially the monitor, evaluate and modify step.           
Consider other risks that have been and are actively being mitigated by engineering. CRR is why outriggers were placed on ladder trucks; why fire escapes were built on multi-story buildings, then evaluated, monitored and modified to install two "protected" internal stairways for a safer egress; and why hood systems are required in commercial kitchens.
The fact is CRR's Engineering "E" is already alive and well in your department and municipality. Are you giving it the credit it deserves?
CRR Week 2023 is Jan. 16-22. The time is now to plan how your department will recognize engineering as the integral part of CRR that it is. Learn more at www.crrweek.org and www.strategicfire.org.
How do you see engineering as a way to mitigate risk? Share your fire-focused stories, and we'll share your highlights with the world. Connect with @crrweek on Twitter, Facebook and Instagram.
About the author
Wendy Giannini-King is the community risk reduction coordinator for the Wilmington (N.C.) Fire Department and serves on the CRR Week Leadership Team.