Kids' roman candle war destroys Kan. home over holiday weekend
Fire investigators are still looking to identify the children, who could face a citation and even charges, Wichita Fire Battalion Chief Jose Ocadiz said
---
Michael Stavola
The Wichita Eagle
WICHITA, Kan. — Children having a roman candle fight over the holiday weekend sparked a fire that destroyed a home in north Wichita, leaving a mother and her son homeless.
Fire investigators are still looking to identify the children, who could face a citation and even charges, Wichita Fire Battalion Chief Jose Ocadiz said. Roman candles are illegal in Wichita.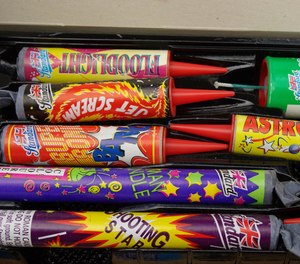 The home in the 2400 block of East Shadybrook was one of two damaged by fire involving illegal fireworks in Wichita and the only one that was a complete loss. Firefighters estimate the damage at $80,000 to the structure and $20,000 to the contents.
Ocadiz said the fire happened July 2 after children were having a roman candle war. One of the flaming balls shot from the firework went "under the deck and got into the attic space where .. it spread," he said.
"I'm very upset because these children could have killed me and my son," said Catrinda Wakefield, the homeowner, adding the three children, who she heard were 11 and 12, don't live in the neighborhood.
Wakefield had just gotten back from putting up flyers about her lost dog, Coco. She was taking a nap on the couch, and her adult son was taking a nap in the basement. She left the door open in case Coco came back and scratched at the screen door.
Instead, Wakefield awoke to someone yelling from outside.
"Ma'am, ma'am your house is on fire," Wakefield remembers hearing.
She went to run out the front door, but the fire had already consumed the porch. She yelled to her son. They both ran out the back door. He ran back inside to grab shoes and keys for his mother's vehicle, but she already had them. Wakefield said her son suffered some minor smoke inhalation.
The entire front porch of the home was scorched. Wakefield says she lost many personal items, including photos and clothing. There is water damage throughout the basement. Photos show the attic is also scorched and there's burned insulation throughout the home.
---

Read next:
USFA: It's time to adopt common life safety messaging
At CFSI's annual symposium, the fire administrator touted enhanced collaboration and consistency of messaging from fire service groups
---
It's been her home since 2004 and a place she put a lot of sweat equity into.
The home was built through Wichita Habitat For Humanity. The nonprofit uses volunteers to build homes. Recipients of the home have to meet certain criteria and put a hefty amount of labor into their home and others. They also are given a no-interest mortgage to make the home more affordable.
Wakefield and her son moved into the house in December 2004. The plan was for them and her daughter to live in the home, but her daughter, Senae Bell, died in February 2004. She was 11. Her obituary says she was the recipient of the Make-A-Wish Foundation in 1999. That organization grants dying children a chance to live out a dream.
She's happy that she and her son were not seriously injured, Wakefield said. The mail carrier found her dog nearby on Tuesday.
Wakefield said she is now living with her sister-in-law. Her son is staying with a friend. She is looking for a place to live, but is concerned about having to still pay a mortgage and rent.
Her insurance doesn't cover living expenses, she said.
Wakefield's coworker at Robert J. Dole VA Medical Center set up a GoFundMe to help Wakefield land back on her feet. The fundraiser can be found at www.gofundme.com/f/catrinda-wakefield.
A second home in the 1400 block of South Todd Place burned July 5 after someone shot an illegal firework into the air, Ocadiz said. A hot ember got onto the wood chimney and the fire spread. That fire caused $25,000 worth of structure damage and another $5,000 of content damage.
A detached garage burned in the 2300 block of South Stoney Point after someone put discharged fireworks in the garage. It caused $10,000 of damage to the contents and another $10,000 to the structure overnight on July 4.
Ahead of the holiday, the fire department posted on social media about how to safely use fireworks. The posts say used fireworks should be hosed and kept away from the house overnight.
Preliminary reports show that three people were injured by fireworks, Ocadiz said Thursday. None of the injuries was severe. There will likely be more as fire officials gather more data from area medical centers. There were 47 injuries last year, he said.
The most common injuries involve firecrackers, sparklers and smoke bombs, which are all legal.
He said eight citations were written, all for using illegal fireworks. The fines are $250 plus court costs.
Wichita ordinance does not allow fireworks that cause a spark higher than six feet or anything labels as "shooting flaming balls" like roman candles, though many people don't follow those rules. Ocadiz said authorities responded to more than 100 complaints about illegal firework use, but it's often hard to catch people in the act.
The Sedgwick County non-emergency number, where people can lodge complaints about parties and fireworks, had 1,224 calls. There were 1,184 calls last year. That non-emergency line is turned on from 6 p.m. to 3 a.m. July 1 through 5 to help handle the extra calls around the holiday.
This story was originally published July 7, 2022 2:40 PM.
___
(c)2022 The Wichita Eagle (Wichita, Kan.)
McClatchy-Tribune News Service