A PSA to kind-hearted citizens: We cannot accept many of your donations
The best way to help firefighters working wildfires is a simple "thank you"
---
By Jim Mackensen
It is the third consecutive year of drought conditions, and the forest is tinder dry. It has been a long, hot summer, and dry thunderstorms rolling over the area have ignited several fires. In short order, these fires grew to thousands of acres. Many communities, rural properties and vital infrastructure are now at significant risk. Thousands of firefighters have been mobilized and face extreme weather in steep terrain covered with thick, heavy fuel. A large Fire Camp has been established at the county fairgrounds to take care of them.
While your community is not in danger, you are paying close attention to the situation. While scrolling through your social media platforms, you see alarming posts like, "The firefighters do not have enough food or drinking water!" Because you are so appreciative of the heroic efforts of the firefighters, you share the post and head off to the grocery store.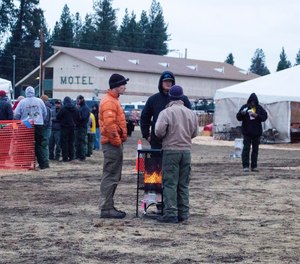 You buy all kinds of trail mix, jerky, cookies and cases of water. You arrive at the fairground gates to find tables filled with all kinds of food including home-cooked meals, bags of fast food, pizza boxes and so much more. There are at least 100 cases of water, Gatorade, soda and energy drinks. You ask yourself, "Why is all this food just sitting here while firefighters are going hungry and thirsty?"
In most cases, it's a reluctant "no thank you"
I have been battling large wildland fires across this country for over 40 years as both an engine captain and member of Type 1, 2 and 3 Incident Management Teams. I have seen the above scenario play out hundreds of times over the years.
Words cannot explain the deep sense of appreciation I have for community members who want to help us. It makes me so proud to be part of an organization that does everything it can to help our community or even a community many states away. However, there are a few things you need to know before trying to help the firefighters with your well-intentioned donations.
When it comes to food donations, unfortunately, most can't be used and will go to waste.
Despite what some people post online or the media might report, firefighters at major incidents are well provided for. There is a mobile kitchen in the Fire Camp that provides a hot breakfast and dinner and that assembles a bag lunch to take out to the firelines. Ice, water and sport drinks are also supplied. There are shower units, a medical clinic, a laundromat, and climate-controlled sleeping trailers for the night shift so they can get a good day's sleep. They have a large supply "warehouse" for all their tools and equipment needs, mechanics to repair vehicles, really everything they need. It is not 5-star resort living, but it does meet our needs.
Firefighters deeply appreciate the outpouring of appreciation we see from the communities we serve. No doubt some of the homemade treats are absolutely the best thing ever created. However, we also have to look at bigger issues. In this age of acute awareness of communicable disease, we have to ensure that these items have been safely prepared and stored in a manner that will prevent foodborne disease from being spread. For example, just how long has the "secret sauce" on that sandwich been sitting in the sun?
Unfortunately, we also have to be concerned about donations that may not have been prepared with the best of intent. I have been on incidents where baked goods laced with cannabis were donated to firefighters. I was even on a fire where mason jars of moonshine were dropped off for its "medicinal purposes."
We are also often presented with donations of socks, underwear, jackets, sleeping bags, tents and other items for our comfort. Firefighters arrive well prepared with tents, sleeping bags, clothes and personal hygiene items. So, while truly appreciated, these items are not needed by the firefighters. We do make every effort to turn all the donations we receive to local charities, such as food banks, senior centers and other service clubs, to be used by those in true need within the community. These organizations also cannot accept homemade food items so, unfortunately, much of that goes to waste.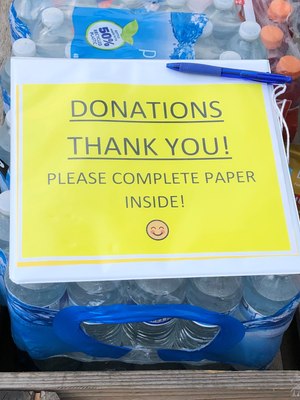 tips for "pop-up" roadside refreshments
In addition to the massive drop-off of items at the Fire Camp, we often see "pop-up" roadside refreshment centers where a group, often a youth group from a school or church, bring out ice chests of cold drinks and snacks. This is something we might be able to enjoy. Some tips:
Please make sure the drinks are in sealed containers and limited to water or sport drinks. So-called "energy drinks" are not good for the firefighters, as they are a strong diuretic and can lead to dehydration and a heat-related medical emergencies.
Snacks also must be in the original sealed packages; homemade goodies are a no-go.
If possible, try to offer somewhat healthy snacks – high protein rather than sugary snacks.
Remember, these items are going into a backpack and will be mashed, dropped and generally abused, so make sure what you are giving are both "tough enough" and won't melt so they will survive until lunchtime.
The good news for concerned citizens: The meals we are provided at Fire Camp provide us up to 6,000 calories a day to meet the needs of the energy we can burn on the firelines.
You can help us – in another way
There is one simple thing you can you do to show how much you admire and appreciate the firefighters. When you see us around town, just say thank you. That simple expression means a lot to all of us. The signs and posters put up along the roads are also great. It really does help us get through the long days away from our families. On one incident, hundreds of people came out and lined the road to Fire Camp. As we came in off the line, we drove through a gauntlet of cheering crowds waving signs of support. That was extremely moving to everyone on the incident.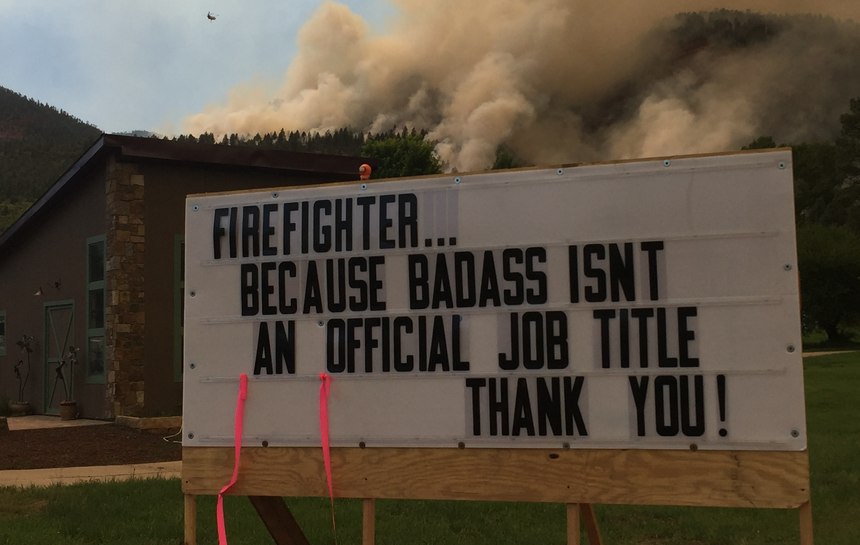 If you feel compelled to do something more, consider giving a cash donation to your favorite disaster relief charity or faith-based organization. Donate to your local volunteer fire district. Many rural VFDs operate on a shoestring budget and are always in need of assistance. 
Remember, the effects of this disaster will be there long after the Fire Camp and firefighters have moved on to the next emergency. There will be many opportunities for you to reach out and help your neighbors in the days to come.
About the Author
Jim Mackensen is a 48-year veteran of the fire service. He spent 10 years in volunteer fire departments and 30 years of full-time experience. He retired from the Cosumnes Fire Department in Sacramento County, California, as a fire captain in 2012. Mackensen now works for the U.S. Forest Service as part of the Command staff on Type 1 and 2 Incident Management Teams. He has held the positions of division supervisor, incident safety officer and incident public information officer. Mackensen has been a Master Instructor for California Fire Marshal's Office Training Division for 25 years. He teaches Incident Command and wildland tactics throughout the country.