Bipartisan House bill links wildland firefighter health, COVID-19
The Wildfire and Community Health Response Act of 2020 requires reporting as pandemic approaches wildfire season
---
Federal lawmakers are already looking ahead to mitigating difficulties the COVID-19 pandemic may pose to the upcoming fire season with a new bill introduced by John Curtis (R-Utah) and Joe Neguse (D-Colo.).
The Wildfire and Community Health Response Act of 2020 aims to support firefighter health and mitigate the impact of wildfires on exposed communities around the country by requiring reports to Congress by both the U.S. Forest Service (USFS) and Bureau of Land Management (BLM) on "efforts during the pandemic to mitigate future wildfire risk through fuels reduction methods and identify the steps being taken to slow the spread of COVID-19 among emergency response personnel," according to a statement.
Fireground commanders face a unique risk of community spread since firefighters travel on mutual-aid across counties, states and sometimes internationally. Social distancing is possible on the fireline, but not in an aircraft cockpit nor – without significant adaptation – base camps.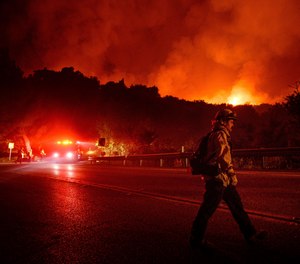 The number of personnel available to respond for wildfire suppression this summer could be limited by exposure and infections among local departments from which firefighters are detailed. CAL FIRE swells from 6,500 year-round employees to upward of 9,000 with seasonal firefighters each year, as one example.
Interestingly, POLITICO California reports that California was better prepared to deal with the magnitude of pandemic by its own travails with wildfire in recent years.
Departments already tracking coronavirus-infected firefighters must now account for how members in "injured reserve" diminishes their ranks of specialized personnel, adjust duty rosters and even prepare to turn down requests.
Further, emergency managers will want stay aware of what is learned about the long-term effects of COVID-19 on humans, as confirmed positive or asymptomatic members may put peers at risk for years to come, and lasting resistance is unassured.
"As we address the COVID-19 pandemic, our land management agencies must ensure that wildland firefighters are healthy and ready to respond to the upcoming fire season," Curtis said. Curtis serves on the House Natural Resources Committee where the bill, once filed, would be referred for initial action.
A host of additional wildland bills, written before the COVID-19 outbreak, are also in the queue.
The USFS recently revised environmental permitting regulations designed to give state and local governments more flexibility by providing categorical exclusions from National Environmental Policy Act (NEPA) review when approving infrastructure for recreational activities like campgrounds, S&P Global reported. The USFS released its interactive Wildfire Risk to Communities website in early April, stating the effort is the first time community wildfire risk was mapped nationwide.
Further, Curtis sponsored the AIR Safety Act in December to force BLM to study the effects of drone incursions on aerial firefighting and wildfire suppression. Senator Catherine Cortez Masto (D-Nev.) introduced companion legislation in the Senate last month.
Separately, the Wildfire Defense Act was introduced by California Democrats Kamala Harris in the Senate and Jared Huffman in the House last November to create a grant program for communities that establish a "wildfire defense plan" focused on hazard maps with defined defensible spaces. The bill also requires a report by FEMA identifying "barriers to interoperability of radio frequencies" and obtainable solutions.