Conn. first responders call for weekly COVID-19 testing at stations
The Eastern Connecticut EMS Council sent a letter to the state officials stressing the need for more tests after outbreaks at firehouses
---
Greg Smith
The Day, New London, Conn.
NEW LONDON, Conn. — COVID-19 cases are rising across the region, and concern and frustration have surfaced among some first responders who say the lack of regular testing in firehouses is putting people in jeopardy.
There is a collective call from a group of organizations in eastern Connecticut for the state to get involved with funding and establishment of a system that allows ambulance services and fire departments — often the first responders on medical calls — to offer weekly in-house surveillance COVID-19 testing. It's one way, some argue, to ward off an outbreak like the one that has affected at least 10 members of the New London Fire Department.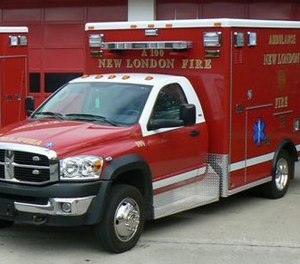 "Please. Help us find a way to establish a program for first responders to have easier access to free asymptomatic testing in their stations so they can continue to provide care to the residents in their communities," Maria Wilson, president of the Eastern Connecticut Emergency Medical Services Council, said in a recent letter to the state Office of Emergency Medical Services, a division of the Department of Public Health.
The letter also is circulating among local and state officials and is accompanied by messages of support from leaders in the ambulance and fire services.
Wilson, who serves as an EMT with the Mystic River Ambulance Association, said she has been exploring a way to offer weekly testing in line with the programs offered at long-term and assisted living facilities in the state — the same places that first responders are in and out of on a regular basis.
She said she knows of at least seven fire stations across eastern Connecticut with people who have tested positive for COVID-19 or are isolating due to exposure. Many of those people are volunteers and work across multiple departments, and she sees a scenario where that number could double or triple.
"Truthfully, I can't understand why all health care providers in the state, regardless of where they practice, aren't being tested regularly," Wilson said.
Her attempts to come up with a program in coordination with local health districts and hospitals has so far been unsuccessful. Those ideas have included free testing sites exclusively for first responders.
Some free testing sites in the region do occasionally offer priority for first responders, but that is not the norm, Mystic Fire Deputy Chief Anthony Manfredi Jr. said. The typical free test site has wait times in excess of an hour, something on-duty personnel and volunteers working day jobs do not have time for, he said.
Manfredi said he is able to secure test kits from Connecticut-based laboratory Sema4 for the firehouse, but to date he has not been able to get the costs of the tests covered by the state, something Rhode Island does. It remains unclear whether insurance will cover the costs of the tests, he said.
New London fire Chief Thomas Curcio agrees with the idea of regular testing and said the outbreak at his department occurred despite strict protocols in place on the use of personal protective equipment, something the medical community has said puts firefighters at low risk for exposure to positive patients. His members are now being tested daily, but the lag time in results, often two and a half days, still leaves a window of vulnerability, Curcio said. The department is among the busiest in eastern Connecticut and answers 7,500 medical calls in any given year.
Wilson is joined in her call for aid by leaders in emergency services operations that include Norwich-based American Ambulance, KB Ambulance in Killingly, Windham Center Fire Department, Franklin Fire Department and Jewett City Fire Department.
"We have seen firehouses in the area have COVID-19 spread throughout the stations and expose volunteers, families and even spread throughout the workplace of their everyday jobs. Seeing everyone in the area getting tested for free is a great thing, but for an Emergency organization trying to self-test weekly and having to pay for it is hard to swallow," Jewett City Fire Chief Louis Demicco III wrote.
The concerns have caught the attention of state Sens. Heather Somers, R- Groton, and Cathy Osten, D- Sprague, both of whom said this week they would be working to come up with a solution. Somers said she already had been in talks with the commissioner of the state Department of Public Health, who she said is aware of the issue. She expects an exploration of funding sources to pay for more test kits.
"Our local fire departments haven't budgeted for that kind of expense," Somers said. "These folks are out there responding in our communities. We need to take care of them."
Osten said she hopes for a solution before the next legislative session. She said there is anxiety among local fire departments whose members are going home to their families "without the knowledge whether someone has COVID or had contact with someone with COVID."
Ledge Light Health District Deputy Director Jennifer Muggeo said the district is working with state and local partners to expand testing as much as possible. The state has contracted with a number of providers to conduct community testing, which has enabled LLHD to schedule "pop-up" testing events at different locations to augment the daily testing offered by Community Health Center sites in Groton and New London.
"Whenever possible we are creating separate lanes for first responders at these events, so that on-duty personnel can be tested without a long wait. There are limited resources across the state, specifically around staffing testing events, but we are doing everything possible to assure that anyone who wants to get tested can," Muggeo said.
In addition to the daily free testing site, there will be free COVID-19 testing from 3 to 6 p.m. Friday at the Groton Municipal Building and from 10 a.m. to 1 p.m. Saturday at Rocky Neck State Park in East Lyme. Wilson said her expectation is there would be priority lines for first responders.
A representative from the state Department of Public Health was not immediately available to comment for this report.
___
(c)2020 The Day (New London, Conn.)
McClatchy-Tribune News Service