FDNY COVID-19 cases spike to 170
FDNY Commissioner Daniel Nigro said he has "no reason to believe" the numbers won't continue to increase
---
By Laura French
NEW YORK — The number of COVID-19 cases at the FDNY has spiked again to 170, Commissioner Daniel Nigro said during a radio interview on Thursday.
Nigro told 1010Wins that he has "no reason to believe that number won't continue to rise."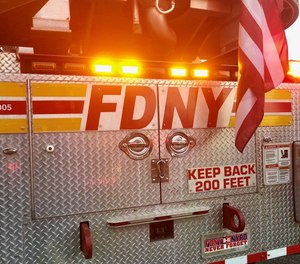 The new number is more than twice the count confirmed by an FDNY spokesman on Wednesday, when 84 members were reported to have tested positive. As of Tuesday, only 46 cases at the department had been confirmed.
Nigro said on 1010Wins that the FDNY's workforce is still "strong" but "fragile" due to the number of members who cannot work due to the virus.
He did not say how many of those who tested positive are firefighters or EMS providers
Earlier this week, FDNY union officials said that the department is seeing its highest call volume since 9/11, with about 6,500 calls per day, a 40% increase from before the pandemic began.
Uniformed EMTs, Paramedics and Fire Inspectors Local 2507 President Oren Barzilay said the FDNY does not provide testing and that members are going to hospitals and other sites to get tested. Barzilay also said that the city would be facing a crisis should the department lose another 10% of its members.