Driver charged with 2 felonies in Pa. firefighter's death
Michael Fontanez Mendez II initially fled the scene of the crash, leaving firefighter Chase Hartlaub unconscious in the passenger seat
---
DOVER TOWNSHIP, Pa. — A driver involved in a crash that killed a firefighter was charged with two felonies as a result of the incident.
York Daily Record reported that Michael Fontanez Mendez II faces charges of homicide by vehicle and accidents involving death as a result of a June crash that killed Dover Township Volunteer Fire Department firefighter Chase Hartlaub, 18.
Police said Hartlaub was in the passenger seat of Mendez's vehicle when Mendez collided with another vehicle at a three-way stop intersection. His car then struck a wooden fence, sheering off fence posts and impaling the windshield with rails.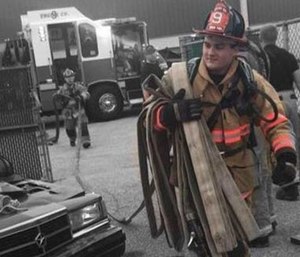 According to police, Mendez fled the scene and left an unconscious Hartlaub inside the vehicle. Hartlaub's colleagues had to extricate him from the passenger seat.
Less than an hour later, police said Mendez turned himself in to authorities.
Mendez was also charged with four counts of recklessly endangering another person and six summary driving violations. He is set to appear in court Dec. 10.