Houston fire chaplain reflects on Harvey response, 32-year career
Garry Blackmon, who never dreamed of becoming a firefighter, became the Houston Fire Department's first full-time paid fire chaplain
---
Thirty-two years ago, Garry Blackmon heard an announcement from a fire department recruiter during his church's morning service.
The recruiter, given only five minutes by Blackmon's pastor, talked about the Houston Fire Department's need for new firefighters, especially African-American men.
Blackmon, who never dreamed about becoming a firefighter, made a comment at the end of the recruiter's speech that he might try it out.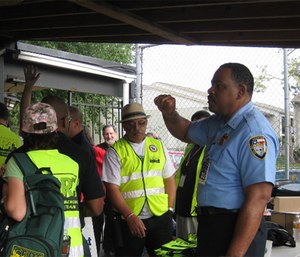 "Being a firefighter was never on my radar, but I went all in," Blackmon said.
At the time, the Houston Fire Department was only hiring for 70 positions. The day Blackmon applied, over 3,000 applicants put their name in the hat.
"To my surprise, I got selected. I got into the academy, went through it and I've been with the department for 32 years now."
After 15 years of being a firefighter, former Fire Chief Rick Flanagan, an assistant chief at the time, asked Blackmon to come into his office to talk about a new department they were planning on opening.
"I thought I was in trouble, but he [Chief Flanagan] said he had heard a lot about me and wanted to gauge my interest in becoming a fire chaplain for the department," Blackmon said. "I wasn't really interested, but he told me to think about it."
Once again, to Blackmon's surprise, he was selected out of the seven people who applied for the position.
The Houston Fire Department, prior to Blackmon, never had a full-time fire chaplain. Blackmon was the first – and only – fire chaplain for the fourth largest city in the U.S. He has been the fire chaplain for 17 years now.
Feb. 14, 2000
Not even a month into his position as fire chaplain, a Houston restaurant fire claimed the lives of two firefighters.
"Since then, I've dealt with 14 line of duty deaths," Blackmon said.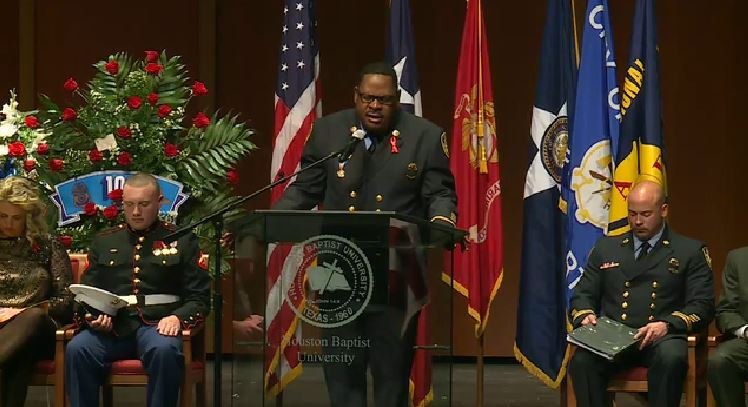 When Blackmon first became the HFD's chaplain, there was no job description, procedures or manual.
"I had to write and do all of that because nothing was available," he said. "There were other resources online and I did a lot of research. I also contacted larger departments in New York; Chicago; L.A.; Indianapolis and Charlotte, N.C. to see what their chaplain programs were like and how they started them."
Now, the HFD's fire chaplain program isn't just reliant on Blackmon.
"We have an entire team called the Firefighters Support Network, which consists of myself, two psychologists, a family assistance coordinator, funeral assistance coordinators and a Critical Incident Stress Management team." 
Blackmon's role as a chaplain is to provide care to firefighters and their families. He's on call 24 hours a day, and serves the 4,500 active Houston firefighters, as well as retirees and their families.
One of the hardest parts about being the fire chaplain, according to Blackmon, is having to bury his colleagues. "All of the guys that I came in with as a rookie are either retired or I've had to bury some of them. I'm doing their funerals. That's the toughest part."
Being a fire chaplain, Blackmon said, is not for the faint of heart. "You have to deal with people during the worst time of their lives. It's a special calling."
But on August 26, 2017, Blackmon had to deal with a different type of crisis.
Hurricane Harvey making landfall
Hurricane Harvey's flooding, which started the night of Aug. 26 in Houston, was one of the worst weather disasters in U.S. history. The Harris County Flood Control District reported that 70 percent of Harris County was flooded, with an estimated 136,000 flooded structures in the county.
"I got an eerie feeling about this one," Blackmon said. "We knew it was coming, but you just never know how bad it will be."
Blackmon, who's part of HFD's standby team, started making calls to command and the Office of Emergency Management, where he was later stationed.
"I heard all of the calls come in and the firefighters who needed more resources. The 911 system was being flooded with calls. Even though I was not in the field and making calls, my role as chaplain did not stop.
I'm standing there, hearing these calls about how civilians are trapped and how firefighters can't get to them, and my role at that time was to pray. God intervened, not through us, but through the other heroes of Houston who somehow got to a house to make a rescue on a boat or a jet ski."
Blackmon said his role as a caregiver to first responders allowed him the opportunity to help with firefighters' physical and mental wellbeing.
"Some of them worked three days straight. We were trying to get them food, keep them hydrated. On top of that, we lost three fire stations and 15 fire trucks."
Blackmon and the rest of Firefighters Support Network team were able to get out into the field two days after the storm.
"I was assigned to the recovery team, whose role was to go into those communities that still had water in the homes and we had to search every home," Blackmon said. "We had about 100 firefighters stationed in a particular area that was hit, in different parts of the city, and we did that over the course of two days."
Some firefighters, Blackmon explained, witnessed deceased civilians while searching homes and were pulled off the frontline. "We made sure they got a debriefing and just talked about it. It gives them the opportunity to talk about what they experienced."
And while firefighters were out rescuing people from their homes, their own homes were being damaged by the storm as well. "We had about 300 firefighters whose homes were damaged by the flood – not all 300 were on call, but around 72 were on duty at the time."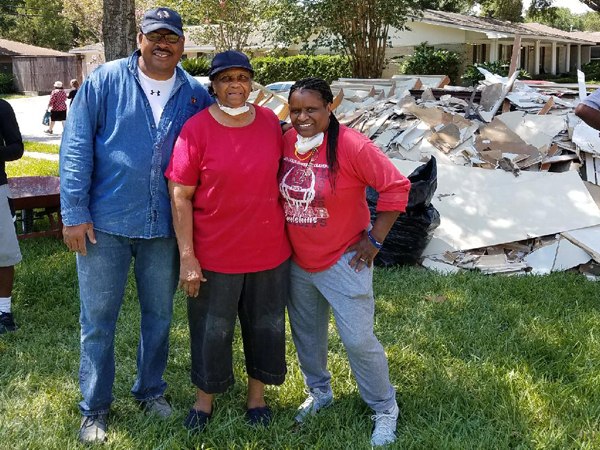 Through private and corporate donations, Blackmon formed the HFD Harvey Relief fund, which provided financial resources to firefighters whose homes were damaged by the storm.
"We've been issuing checks to those firefighters who were affected by the floodwaters. Some of their homes can't be repaired, so we've written checks to 75 firefighters to help them in any way we can."
The financial as well as physical resources given by the city of Houston, businesses and the public, Blackmon said, have been overwhelming.
"Everyone has stepped up in an amazing way. Every little bit helps and our firefighters are appreciative of everything."
After Harvey, Blackmon said it gave him a deepened sense of hope that people can put aside their differences and come together to help others in the midst of a tragedy or crisis.
"I'm also just so proud to be a firefighter and a chaplain to these men and women in the department. You didn't hear any complaints from our firefighters. There was no shouting or anxiety on the radio transmissions. I don't see how they did that for three days without any relief, but that's what they do. It's who they are."
A succession plan
As a firefighter and fire chaplain, Blackmon has seen a lot during his career.
"But I'm coming to the end – eventually, I'll be looking for my replacement and starting a succession plan," he said.
Chaplaincy, he said, is a special calling, especially as a fire chaplain.
"Firefighters are a different breed. To be a fire chaplain, you almost have to be a firefighter. I'm not saying that you couldn't be a pastor, but it would take you a longer amount of time to understand what it's like to lose a brother or sister firefighter. You wouldn't know what it's like to be in a burning building and the anxiety of that."
Being a chaplain, Blackmon said, has afforded him the ability to do things he would have never been able to do – some good and some more difficult.
After the Sept. 11 attacks, Blackmon was on the first flight to New York. All fire chaplains in the U.S. and around the country were summoned to New York and Blackmon was put up in a hotel for a week.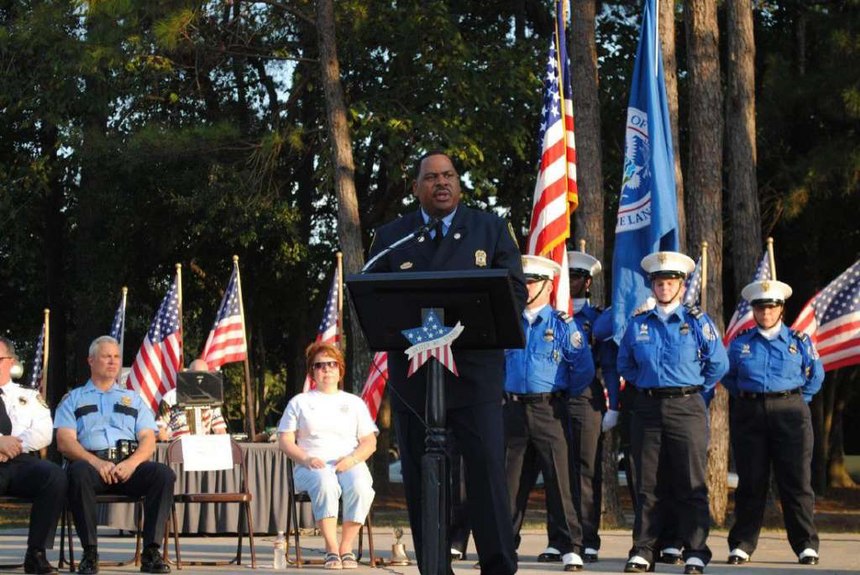 "I was assigned to Ellis Island, where they did the body recoveries," he said. "Some chaplains had to be sent back home. Ground Zero was nothing like it was on TV. I just stood there and wept."
Blackmon said he talked to firefighters who lost their entire crew. "They would come in from Ground Zero, walk into the station – white with ash – and they would just fall on the floor and crash out."
Some of the things Blackmon has had to endure throughout his career, he said, have not been fun, but it's what he's been called to do.
"To have to knock on the door to make a notification to a parent or to a wife that their loved one passed away in the fire, that's not fun. I've had to do that at least 10 times. You can't train for that, you can't go to school and learn how to do it. But that has been my career and it has been a blessing to be able to do it for 17 years."
Becoming a fire chaplain, Blackmon said, was all about providence and never coincidence. "It was never a coincidence. Nothing happens by chance or accident in my life."
As for his successor, Blackmon's only piece of advice is to be yourself. "Don't be me, be you. You have to carve your own niche. I can tell you what I've done and give you the manual, but you have to get out there and spend time with your members."
Blackmon's plans for retirement involve spending more time with his wife and grandchildren, but he said he will never be more than a phone call away if he's needed.
"If [my successor] needs me or the fire department needs me, I'm going to be available. I won't lose that fire chaplain identity."
After 32 years, Blackmon said he's enjoyed the ups and downs of the ride.
"I have no regrets. I have thoroughly enjoyed my role as chaplain and I hope, at the end of the day, I did good by what God called me to do. Only those who I've touched in life will ultimately know that."