9/11 firefighter donates kidney to stranger in need
Kevin Shea donated his kidney to Lois Knudson, a special-education teacher who has idolized firefighters her entire life
---
By FireRescue1 Staff
NEW YORK — A firefighter who responded to the 9/11 attacks gave a stranger the gift of life by donating his kidney.
New York Post reported that Kevin Shea was off-duty when he was found unconscious amidst the rubble of the attacks, and was one of only 13 firefighters of his firehouse to make it out alive.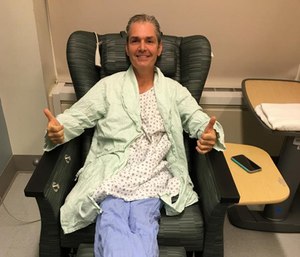 "There was an extra seat on the engine," Shea said. "I survived through luck — and they did not."
Shea decided to celebrate his luck and give someone else the chance to live by donating his kidney to Lois Knudson, a special-education teacher with a degenerative and fatal kidney disease who has idolized firefighters her entire life.
"He saves lives all the time, that's what he does. And [now] he saved another New Yorker from across the country," Knudson said.
Knudson, a five-time "Teacher of the Year" award recipient, was on a waiting list for four years and on dialysis, "hooked to the machine three days a week for three hours at a time after teaching a full day" after 14 failed attempts from family members and friends to donate their kidneys.
"In the last couple of years I've had so many people come forward to donate but it didn't work out," Knudson said. "People were disappointed and felt bad, but I felt it just wasn't my time and that my time will come."
Shea had joined a program that lets people donate organs to anonymous recipients.
"I really don't know what drives me. I wish I had some great explanation. But the way I look at it, I have an extra kidney and there's someone out there who definitely needs one," he said.