How to help Hurricane Irma first responders
Here are some ways you can help give back to first responders affected by Hurricane Irma
---
As Category 5 Hurricane Irma barreled toward the southeastern United States, hundreds of first responders traveled home from Texas, where they had been assisting with Hurricane Harvey response and relief efforts, to prepare for disaster response in their home states.
Our thoughts are with those affected by one of the strongest Atlantic storms on record. We are especially grateful to the first responders contributing to Harvey and Irma relief efforts in the face of flooding and widespread property damage. Please join FireRescue1 in supporting the recovery needs of first responders in the wake of both hurricanes.
Hurricane Harvey was called one of the costliest storms in U.S. history just weeks ago.
Following quickly behind it, Hurricane Irma became one of the most powerful storms to hit the U.S. in years. Brian McNoldy, a hurricane researcher at the University of Miami, told the Associated Press that Hurricane Irma "could easily be the most costly storm in U.S. history, which is saying a lot considering what just happened two weeks ago."
Hurricane Irma, a Category 5 hurricane for a nearly record-breaking three days, topped out at winds of 185 mph for more than 24 hours, according to the U.S. National Hurricane Center. The storm has claimed the lives of dozens of people, including a Hardee County, Florida sheriff's deputy and corrections officer, across the Caribbean and United States.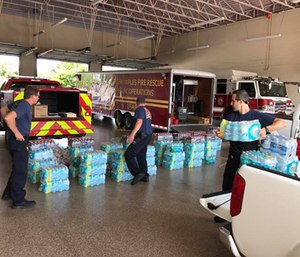 The relief efforts are still ongoing after Hurricane Harvey's catastrophic devastation. Nonetheless, hundreds of first responders are in Florida helping after Irma, just days after arriving in Texas to help with Hurricane Harvey relief.
For first responders, jumping from one disaster to the next is no easy task – especially when their own homes may be experiencing similar flooding and destruction. In Largo, Florida, a firefighter's home was destroyed in a fire during Hurricane Irma. Crews were unable to respond until five hours after the fire due to suspended service during the storm.
We commend every responders' immeasurable hours of work during back-to-back disasters. In order to help the helpers, we want to shed light on the organizations and charities raising money for first responders directly affected by the storm.
Here are some ways you can give back to first responders affected by Hurricane Irma.
ACADIAN EMPLOYEE EMERGENCY RELIEF FUND
Acadian Ambulance, headquartered in Lafayette, Louisiana, created a relief fund to provide immediate financial assistance to Acadian Ambulance employees who are experiencing financial hardships resulting from Hurricane Harvey and Hurricane Irma. Click here to make a contribution and help the agency's team members in Texas and Florida.

INTERNATIONAL ASSOCIATION OF FIRE FIGHTERS FOUNDATION DISASTER RELIEF FUND
You can help IAFF members working during Hurricane Harvey and Hurricane Irma through the IAFF Disaster Relief Fund. You can donate here.
NATIONAL VOLUNTEER FIRE COUNCIL VOLUNTEER FIREFIGHTER SUPPORT FUND
Volunteer firefighters and emergency personnel whose homes have been impacted as a result of Hurricane Harvey and Hurricane Irma can apply for a NVFC stipend to assist with basic needs in the aftermath of the storm. Learn more here.
MARTINSVILLE, INDIANA CHAMBER OF COMMERCE HURRICANE RELIEF
Martinsville Fire Department Captain Chad Cooke, along with Long Boat Key, Florida, Battalion Chief Rocky Parker, is leading efforts for the victims, including first responders, of Hurricane Irma with the mayor's office, fire department and policy department. They are asking for monetary and item-specific contributions. Learn more here.
FRATERNAL ORDER OF POLICE FOUNDATION DISASTER RELIEF
The FOP Foundation is helping officers who have been displaced by Hurricane Harvey and Hurricane Irma. You can make a one-time donation or can contribute monthly. For more information, click here.
As with any organization or charity, be sure to check its legitimacy. Some organizations claim to be sending 100 percent of their funds to Hurricane Irma victims, but may not be entirely truthful. Charity Navigator compiled a list of reputable organizations providing assistance to those affected by Hurricane Irma. This list can also help you determine if a charity or organization is legitimate.
To all first responders: Thank you for your continued efforts during the recovery efforts and remain safe out there. In the comment section below, please feel free to share your stories and photos with us. Also, if you know of any other Hurricane Irma responder-specific relief funds, please share those below as well.