Arizona FD orders Volterra pumper from Pierce
The electric vehicle will have a 500-gallon water tank and be able to seat 6
---
By Leila Merrill
FireRescue1 Staff
APPLETON, Wis. — Pierce Manufacturing announced Tuesday that it has a contract with the Gilbert Fire and Rescue Department in Arizona for a Volterra pumper.
This will be the third electric pumper placement for Pierce. The first went to the Madison (Wisconsin) Fire Department, and the second went to the Portland (Oregon) Fire and Rescue Department.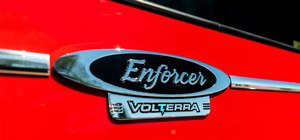 Gilbert Fire and Rescue Department Chief Rob Duggan pointed out a health benefit in a news release for Pierce. The city established an initiative to reduce its carbon footprint in 2019.
"We are excited for the opportunity to partner with Pierce to add the Volterra electric pumper to our fire fleet because this partnership reflects and exemplifies Gilbert's mission to anticipate and recognize the current and future needs of all who reside in the areas we serve," said Duggan. "An additional attribute critical to our department is the Volterra pumper will allow us the benefit of exploring ways to eliminate cancer-causing diesel exhaust particles from our fire stations."
The pumper will go to Gilbert's Station 2.
According to the company, the Volterra's configuration includes:
Pierce Velocity custom chassis, expanding continuity among Gilbert's current Pierce fire apparatus fleet
Seating capacity: 6
GVWR: 42,000 lb
TAK-4 Independent Front Suspension
500-gallon water tank
1500 gpm single-stage pump
Compartmentation: 150 cu ft plus ladder storage
Hose capacity: 1000' of 5" / 850' of 2.5"
Oshkosh patented parallel-electric drivetrain featuring an electro-mechanical infinitely variable transmission
Zero-emissions operation when powered by the integrated onboard batteries, coupled with an internal combustion engine to provide continuous and uninterrupted power to the pumping system or drive system
Exceptional operational range tailored to the fire department's needs and duty cycle for full-shift operation
Fire station-based, all-encompassing vehicle charging infrastructure offers a thorough, simple, and fast charging solution through Pierce's expert energy solutions provider.
---

Read next:
'Yesterday's crazy is today's obvious': Electric apparatus in the fire service
Having seen the units in person, it's time to address some common naysayer reactions
---