USFA: 8 vehicle manufacturers update ERGs for EVs and lithium-ion batteries
Most manufacturers have posted their updated ERGs on their websites and submitted them to the NFPA
---
By FireRescue1 staff
EMMITSBURG, Md. — The U.S. Fire Administration announced last week the status of vehicle manufacturer efforts to improve response guidance for incidents involving electric vehicles (EVs) and lithium-ion batteries.
The update follows a 2020 National Transportation Safety Board (NTSB) report, Safety Risks to Emergency Responders from Lithium-Ion Battery Fires in Electric Vehicles, which recommended that vehicle manufacturers update their emergency response guides (ERGs) for these vehicles.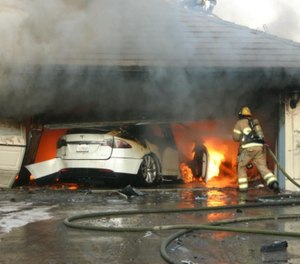 According to the USFA: "Key to the NTSB's recommended improvements to EV ERGs is compliance with the International Organization for Standardization's (ISO's) standard 17840: Road vehicles – Information for first and second responders. This standard outlines display labels and colors to clearly identify a vehicle's fuel and/or energy used for propulsion, to facilitate rapid identification of alternative fuel vehicles on the roads. It also outlines a standard format, with standardized symbols and graphics, for the information about a specific vehicle that a rescue team would need when extricating the occupants in an accident."
Since the NTSB made its recommendations in 2020, eight vehicle manufacturers have complied with the recommendations with updated ERGs for EVs: Honda, Hyundai, Mitsubishi, Porsche, Proterra, Van Hool, Volkswagen and Volvo. Another 12 manufacturers are making progress toward compliance: BMW, BYD, Stellantis (formerly Fiat Chrysler Automobiles US), Ford, General Motors, Gillig, Kia, Mercedes-Benz, Nissan, Subaru, Tesla and Toyota.
Most manufacturers have posted their updated ERGs on their websites and submitted them to the NFPA.
Responder safety is a serious concern during incidents involving EVs with lithium-ion batteries, as responders face safety risks related to electric shock, thermal runaway, battery ignition and reignition, and stranded energy. Further, EV design varies significantly – an issue that drove the push for guide standardization.
A USFA statement reads: "ERGs that comply with ISO 17840 are incredibly helpful to responders because they document the features and safety risks of individual vehicles in a standardized way, making this critical information much more complete, accurate, and accessible during training and response."
The NTSB continues to track progress with each vehicle manufacturer.
---

Read more
GM expands electric vehicle training for first responders
The carmaker's program is said to include instruction and best practices on how to handle emergency situations with EVs
---