Sonoma County supervisors give $1.7M for fire staffing, recruitment
Officials, citing the need for action after last fall's catastrophic and deadly October fires, also agreed to spend $800,000 to recruit and retain firefighters
---
By Randi Rossman
The Press Democrat
SONOMA COUNTY, Calif. — More Sonoma County firefighters will be on duty this summer and fall during extreme weather and wind periods following a vote Monday by the Board of Supervisors approving $900,000 for additional staff.
Supervisors, citing the need for action following last fall's catastrophic and deadly October fires, also agreed to give $800,000 for firefighter recruitment and retention countywide to help bolster flagging fire agency volunteer ranks.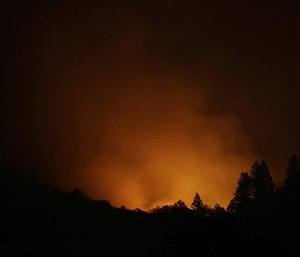 The $1.7 million already had been allocated in the county budget for fire services but Monday's vote directed how it would be spent, based on recommendations from the county's Fire Services Advisory Commission. The county this year has given about $3.5 million to fire services.
Supervisors Monday also heard that fire officials soon will ask them to consider a far more costly plan aimed at bringing fire agencies countywide to more uniform standards — estimated at more than $20 million annually.
That plan will come before supervisors in August. Board members Monday said they knew the big money needed to improve fire services is the real issue for them now. Options floated included the need for a sales tax to bolster firefighting needs.
"I feel like we're handing out ibuprofen when we need open heart surgery," Supervisor Lynda Hopkins said, frustrated at the need, limited funding and time it likely will take to make major changes countywide to improve service. "It's only a matter of time before the next Creighton Ridge 2.0 burns from Cazadero into Guerneville," she said, referring to the 1978 Creighton Ridge fire that burned 11,000 acres in Cazadero and 64 homes.
While supervisors and fire officials continue to wrestle with longer-term fire needs, the "red flag" pilot program — which will place more firefighters on local roads when warm winds arrive, humidity dips and temperatures soar — can be implemented immediately.
Santa Rosa Fire Chief Tony Gossner, who outlined the program for supervisors, said the ability to hire more firefighters during worrisome weather will be key to getting out ahead of a blaze.
Chiefs can activate the program as soon as several weather issues converge. This week's high temperatures aren't expected to trigger the plan, as the forecast doesn't include strong winds and low humidity.
The $900,000 was sitting in a county fund for fire agencies and in the last few weeks fire officials determined its best use would be more staffing this fire season. But supervisor approval was needed before it could be spent.
Some agencies, like Santa Rosa's fire department, already increase staffing at times of heat, wind and low humidity. But most of the three dozen or so local agencies haven't been able to afford that, instead bringing in added staffing after a fire breaks out.
With the money available, fire officials will evaluate the week's weather conditions every Monday on a conference call. If needed, each of the county's seven fire regions would provide one or two added engines and firefighters for a local strike team of at least seven engines, ready to fill in where needed.
How much such a program will cost wasn't known. The $900,000 was what remained of county money allocated for fire services and hadn't yet been designated.
The new plan revises one used and paid for by local fire agencies years ago that ended in about 2010 due to cost, Gossner said.
Copyright 2018 The Press Democrat