Fla. fire station stops offering parking for donations after ethics probe
Investigators said the parking operation was likely in violation of county rules on gifts and exchange of money for official actions
---
Douglas Hanks
Miami Herald
MIAMI-DADE COUNTY, Fla. — Parking for a week at Port Miami costs about $175 unless your girlfriend happened to use a travel agent who went to high school with a local firefighter who could rent you a parking spot at the county rescue station there for a fraction of that price.
That's the lucky scenario Chad Burg from Jacksonville outlined to a county ethics investigator last fall, explaining how he wound up parking his truck at Miami-Dade Fire Station No. 39 for just $20 during a week-long cruise in September out of the county-owned port.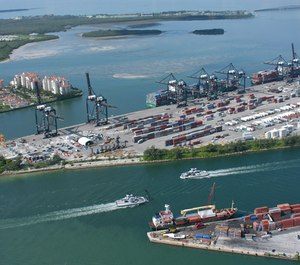 "He said his girlfriend had booked the cruise and the travel agent who booked it for her told her that she went to high school with a firefighter who would let Burg and his girlfriend park at a fire station at the Sea Port," Burg said, according to a summary of his Sept. 25 interview with a county investigator.
That kind of parking deal at the world's busiest cruise port has come to an end on the heels of an ethics investigation into a longstanding perk for county firefighters that evolved into a funding source for the station's kitchen and recreational options.
Parking revenues that hit at least $400 a month helped pay for Station 39's cable bill, a flat-screen TV, juicer and a $600 barbecue grill, according to the report released Thursday.
"It's gotten out of hand ... with so many other people parking here," Michael Pellini, the Miami-Dade firefighter who recently was in charge of the station fund, told investigators. "We don't tell them how much to give ... we just ask them to make a donation, and it goes into a lock box."
Pellini said cruise parking was "mainly" used by active and retired county firefighters and their family, a practice the report said has been underway for decades. Told of Burg's parking score from Jacksonville, Pellini told investigators his sister is a retired Miami firefighter who went to high school with a travel agent "who may have mentioned the parking perk to customers."
On Thursday night, the county's firefighters union was not available for comment on the investigation, which started with a complaint about the parking operation. After the investigation began, a Miami-Dade battalion commander issued a memo instructing the station to limit parking to department employees. The report said an electronic gate was coming to secure the lot, ending what investigators called a likely violation of county rules governing gifts and the exchange of money for official actions.
On Friday, the interim fire chief for Miami-Dade released a statement saying the parking operation was halted after administrators learned of the practice and that the Station 39 lot is only to be used for for employees engaged in county business.
"This is an unfortunate situation that should never have taken place," said interim Fire Chief Alan Cominsky.
"It is frustrating to discover that County employees have monetized a County property asset for personal gain as part of a decades-long established practice, known and permitted by supervisors," the report read.
The report from the county's Commission on Ethics and Public Integrity revealed a longstanding money maker for the station.
Firefighters there said the parking operation boosted the cash "kitty" that paid for $240 weekly grocery bills and covered cable and satellite television used to pass the time during first-responder shifts that can last 24 hours. The firefighters assigned to Station 39 contribute $10 per pay period to the kitty, stuffing cash into a box in the kitchen, Pellini said.
The ethics report estimated the kitty funded expenses worth about $16,000 a year, while the dues only produced about $5,500 a year. That would leave more than $10,000 from parking revenue to cover the difference. Investigators weren't able to nail down how much money came through the parking lot, which had 15 spaces that the report said typically rented for a $20 donation.
Records consisted of handwritten ledgers that mostly tracked who had paid their dues for the month. Javier Perez, the Station 39 firefighter last in charge of the kitty, told investigators he thought parking brought in about $400 a month.
When two investigators visited the station on Sept. 19, they took photos of three vehicles that didn't belong to county firefighters. One belonged to a firefighter from Boca Raton, one to a civilian from Homestead and one was a red Ford truck that belonged to Burg from Jacksonville.
That was described as a slow time for Station 39's parking operation. Shane Dawson, a captain at the station, told investigators the lot would typically be so full during the busy winter vacation season "that the garbage truck cannot get in" and that at one point he "put up a sign at the driveway to the parking lot warning potential visitors that the lot was full."
———
©2020 Miami Herald
McClatchy-Tribune News Service