Milwaukee FF who hung brown figurine at station suspended for 20 days
The fetus-shaped figurine with a ribbon tied around its neck hung in the station kitchen for at least three days before it was reported
---
By Laura French
MILWAUKEE — A Milwaukee firefighter has been suspended for 20 days without pay after hanging a brown fetus-shaped figurine in a fire station kitchen. 
Fire Chief Mark Rohlfing announced the disciplinary action on Tuesday following the February incident that was called racist and sexist by the city's Black firefighters' organization, according to the Milwaukee Journal Sentinel.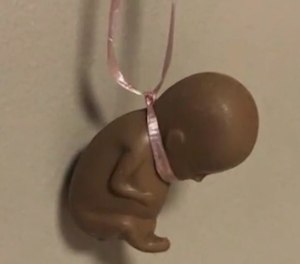 The figurine, which was determined to be a prop handed out at anti-abortion rallies according to the Sentinel, and was hung by its neck from a pink ribbon on a table or hook attached to a whiteboard in Fire Station 2's kitchen, according to Rohlfing. The figurine remained in that location for three-and-a-half to four days until it was noticed and reported by a firefighter returning from a medical call. 
Rohlfing told city officials at a meeting that the firefighter who reported the figurine, who is African American and female, said initially that she did not feel targeted or that the incident was racist or sexist. She was then transferred to another position outside the station at her request, according to Rohlfing. 
Rohlfing said the fire department's investigation determined that the firefighter who hung up the figurine, who is white and male, did not have racist or sexist intent. The firefighter reportedly showed the figurine to firefighters at the station during lunch and said he tied it up because he wanted to see if other firefighters could guess what it was. 
When city officials asked why the firefighter wasn't immediately terminated, Rohlfing said he didn't think it was obvious to everyone who saw the figurine that it could represent "a noose around a Black baby's neck," according to the Milwaukee Journal Sentinel. 
The Milwaukee Brotherhood of Firefighters, a chapter of the International Association of Black Professional Firefighters, previously released a statement saying it was "hard to believe" that the firefighter did not intend to offend anyone and that "if it is true it is a strong signal that some major re-education is needed." 
The group also expressed dismay that other firefighters who saw the figurine in a "high-traffic area of the firehouse" over the three- to four-day period did not see anything wrong with it, saying, "Remember, we are citizens of a country with a history of racism and lynching Black people." 
The Brotherhood is working with the fire department to develop training sessions to educate personnel on discrimination, racism and harassment issues. 
Rohlfing said the length of time between the incident being reported and the investigation being concluded was due to a mass shooting at a Milwaukee brewery in late February, the COVID-19 pandemic and civil unrest after the death of George Floyd.