Interview with Mtskheta's fire chief
The chief explains how they fight fire and perform rescues, and his passion for safety
---
Editor's note: The International Fire Relief Mission is a nonprofit organization that collects donated fire and EMS equipment and delivers it to needy firefighters around the world. Rick Markley volunteers his time to IFRM. He accompanied the group on its 2010 trip to Republic of Georgia and submitted this series of blogs about that effort.
MTSKHETA, Republic of Georgia — During the International Fire Relief Mission's stay in the Republic of Georgia, I had some brief conversations with the Mtskheta fire chief. But I wanted a more formal interview to get a better feel for his department.
So I sat down with Chief Avto Tsiblshvili discussed his department. I'm uncomfortable quoting him directly since we used an interpreter; sometimes those translations were more approximate than exact. Nonetheless, he had some interesting things to say.
Describe the fire fighting equipment you have.
We have a few coats donated by the Ukraine and some from France, he says. He opens a closet and pulls out a leather coat from France and pinstriped coat from Ukraine, neither appeared to offer any fire protection.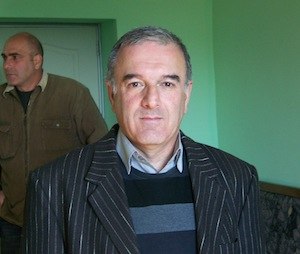 We have about 10 of each type of coat, he says. That's 20 coats for a crew of 30. They have no tool such as axes or Halligan bars. They have two ladders and no extrication equipment. In my time here, I've not seen one helmet or pair of gloves.
What level of protection do you provide?
We protect about 7,000 residents. The population has grown by several thousand because of all of the Georgian refugees who had to leave the disputed territories.
During the summer months, we will respond to about 400 fires, most of those are forest fires as the area is mountainous. When it rains for three or four days straight, there is much flooding. The fire department will be called to pump water from people's houses and apartments, he says.
Are there mutual-aid agreements?
Yes. Mutual-aid agreements are in place with the neighboring departments, but they will only respond if they are available. There are many vehicle crashes and the department must perform extrication by hand.
The regional fire department has extrication tools and will assist on a crash unless it is on another call. The largest problem is being able to respond quickly with the two apparatus we have, he says.
How do you get water?
The city has no hydrant system; the department has one lake where it can draft water. The apparatus, both Soviet-era vehicles, cannot pull water, meaning the department has to lug 1968-built pump to the lake to fill its apparatus.
It takes four strong men to carry the pump. The pump can move about 250 gallons per minute. Still, without hydrants or tankers, the apparatus must return to the lake to refill. And during the flooding, the same 1968 pump is pressed into duty.
How much money does the department get?
The fire department has an annual budget of $220,000 Lari (about $100,000 U.S. dollars), most of which is spent on wages. During the busy summer months, the department can petition the government for additional funds for petroleum to run the apparatus.
How do your firefighters train?
The 30 men will train twice each week using the old ARFF truck for hose drills and using the one monitor. They also practice making window rescues with the two ladders. The department has had no fatalities or serious injuries.
I spent most of my career as a fire inspector at the nation's capital, Tblisi, before becoming chief at Mtskheta. Tblisi has fire equipment, but that department has far too many injuries and deaths. Mtskheta doesn't have much training or equipment, but they do all that they can out of love for the job.
It is easy to believe him. You can see the emotion when he talks about those Georgian firefighters lost at Chernobyl, or those sent to battle the oil field fires in Iraq, or even the American firefighters who died on Sept. 11. And this comes from a man who has never been a firefighter, rather a life-long bureaucrat.