12 Calif. FFs transported to hospitals following trash truck explosion
Two Riverside County fire engines were also damaged in the blast
---
By Janelle Foskett
TEMECULA, Calif. — A dozen Riverside County firefighters were transported to area hospitals on Monday after a trash truck explosion.
NBC San Diego reported that the 12 firefighters were called to the scene of a fire in trash truck, which was pulled over on the side of the road in Temecula. While the crews were extinguishing the fire, a propane tank on the vehicle exploded, sending debris shooting in all directions.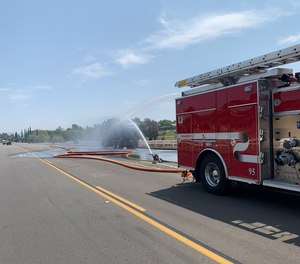 The firefighters were transported to multiple area hospitals for evaluation. CAL FIRE Riverside tweeted that all firefighters have since been released from the hospital. Their symptoms ranged from ringing in the ears to mild headaches.
Two fire engines and a car were also damaged in the explosion, and a bystander was injured and transported for evaluation.
The incident occurred near Rancho California and Butterfield Stage roads in Temecula.
Firefighters who were not injured in the incident continued to work the fire for several hours after the explosion. The fire was contained at 2 p.m.