2 injured after townhouse explodes in Md.
A gas worker, who was there to investigate a gas smell, was hurt, as well as a person inside the home
---
The Associated Pres
COLUMBIA, Md. — A gas worker was hurt and a person inside a Maryland home was rescued as a fire burned multiple townhouses, sending flames and smoke high above the three-story homes.
As of 10:30 p.m. Wednesday, firefighters had the blaze under control and searched the Columbia site. Howard County Fire Chief John Butler said at a news conference that, "At this time, we believe everyone is accounted for."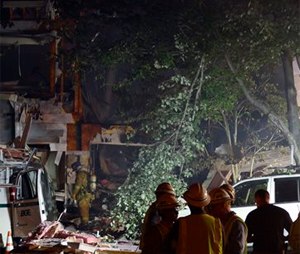 Butler says he believes the BGE employee who was injured was there to investigate a gas smell.
Butler says emergency crews responded after report of an explosion at 7:19 p.m. Arriving crews found at least one house engulfed in flames and the fire spread to at least two other homes. Window frames, insulation and lumber littered the street.
Two people were taken to hospitals.